Since its arrival in the United States back in 2002, the Subaru WRX has been a staple in the performance car industry. And it's no wonder why.
The WRX brings sport and performance to an affordable market with practical features and above-average aesthetics. That's why the 2019 Subaru WRX is one of the most popular sports cars in the US.
We're going to break down the history of the WRX, the features of the newest model, pricing and packages, and what people are saying about it.
Let's begin.

History of the Subaru WRX
Japan began moving away from the typical "people's car" in the 80s when they started focusing on building more performance-based cars for rally with the Legacy.
In 1992, the Subaru Impreza hit the stage. By 1995 when Colin McRae, a renowned professional rally-cross driver, won took Subaru to the podium of the World Rally Cross, popularity in Japan skyrocketed.
It wasn't until 2002 that the infamous and well-respected WRX finally made its way to American shores. This changed the automotive industry forever.
The popularity of this car showed that there was a large market for turbocharged affordable sports cars among the general public.
Some of the most sought-after performance cars on the market today like the Civic Type R, Focus ST, and Lancer Evo have the WRX to thank for their fame.
A new, more powerful version of the WRX, the Subaru WRX STI, came to America in 2004. This car was incredibly capable of dominating the streets, the snow, and off-road situations.
Instead of the standard 2.0-liter boxer engine, the STI featured a 2.5-liter engine and produced over 300hp as opposed to the 268hp the standard WRX did.
Since then, there have been a few generational changes, performance upgrades, new safety standards, and more that have kept these cars favorable among tuner and performance car culture.
The New 2019 Subaru WRX
Subaru continues to amaze with its latest model of the WRX and WRX STI. These cars are more powerful than ever, more fuel efficient than ever, and possibly more affordable than ever.
Unlike previous years, all models come in a 6-speed manual transmission and besides the STI, all models offer 27mpg highway. This is much higher compared to previous years with only 21mpg highway on a good day.
With 268hp and 258 foot-pounds of torque, the WRX is sure to give you a fun, powerful, and enthralling driving experience. The STI goes even further and added an extra 5 horsepower, putting it at 310hp and 290 ft-lbs of torque.
No Sacrifice for Safety
Subaru is known as one of the safest car brands on the market with a huge reputation for putting the drivers and passengers first. They did not make any exceptions for the WRX and STI.
Not only did this car win one of Subaru's 7 IIHS Top Safety Pick awards for 2019, but it also comes with an array of unique safety features including:
4-wheel ABS
Post-collision safety system
Dual front side-mounted, as well as rear and front-facing airbags
Emergency braking assist
Responsive headlight and high-beam assist*
Blind-spot detection and rear cross-traffic alert*
EyeSight driver assist technology* (Pre-Collision safety system)
These are just some of the integrated technologies that are working in the WRX to keep you and yours safe on the road.
There are a few different configurations offered this year, so we'll start by breaking down everything that's offered from the base and work our way up.
Base Model Subaru WRX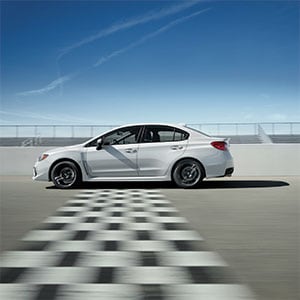 There's a lot to love about the most affordable configurations offered from Subaru this year, starting with the price. This may just be the most powerful performance car for the price, starting at $27,195 MSRP.
This comes with a lot of bells and whistles for a base model including AWD, short-throw shifter, rearview camera, heated mirrors, performance tires on alloy wheels, 4-wheel independent suspension, and more.
All models come with a 3-year/36,000 mile basic warranty and roadside assistance with an additional 5-year/60,000 mile warranty on the drivetrain.
The newest WRX and WRX STI come with a system known as Vehicle Dynamics Control which allows tighter lines through corners due to its sharpened cornering response.
You will also get quick-ratio electric power steering with aluminum front lower control arms. This helps reduce unsprung weight and offers a quicker response.
With any model of the WRX, you will also receive a track-tuned suspension that is built for any condition. Rain, snow, dirt, gravel, you name it. This car is designed to give you optimal performance at all times.
Subaru WRX Premium
For an additional $2,300 you can bump up to the Premium configuration of the WRX. This opens up a few additional options that come standard, and others that can be added at an additional cost.
Most of the upgrades in this trim are for convenience, as size, power, and performance remain the same for the most part.
To start, the tires are 10mm wider and an additional inch taller wheels, multi-level driver and passenger seats, sunroof, and fog lights.
You also get the option once you go premium to upgrade to the performance package. This includes:
Performance-grade Recaro front seats
More durable brake pads
Red brake calipers
Sunroof delete for saving weight
You also can get access to some of those above-average safety features like *blind-spot detection, *EyeSight, and *responsive headlights.
This configuration starts at $29,495 MSRP.
WRX Limited
This is the top of the line for the WRX model (excluding the STI which we will get to later). This adds a bit of luxury to this high-performance sports car.
With the limited configuration, you will upgrade to leather seats, 10-point power seat adjustments, LED fog lights, push power start, power moonroof, Subaru Starlink Safety and Security system, and enhanced speaker system.
What you also get is the availability to upgrade to a super limited-edition trim package called Series Gray. This is also available in the STI.
Here's what upgrades you can expect from this package:
A limited edition cool khaki gray color only available on this package
18-inch custom black wheels
Improved brake pads and calipers
Recaro race-style seats
Blacked-out emblems
Performance package included
If you're looking for some more upgrades from the premium package, you're going to love either the Limited or Series Gray.
You will be paying a slightly higher price, though. The Limited is currently running around $32,000 MSRP and just under $35,000 MSPR for the Series Gray.
Subaru WRX STI
If you love the WRX but are looking for a bit more of an edgy design and powerful performance, you may be interested in the STI.
Subaru Technical International (STI), is a division at Subaru that is dedicated to the motorsports side of the company. It is STI that mainly was responsible for their success in World Rally Cross.
When you move up from the WRX to the STI, you get a whole lot more when it comes to performance, and even a bit more standard luxury.
A World of a Difference
Here are some of the improvements when you get an STI vs. a WRX:
2.5L 310hp and 290 ft-lbs of torque
More aggressive look
High-performance six-piston Brembo calipers standard
Adaptive LED headlights standard
19-inch alloy wheels
Wider tires
Ventilated rotors
Upgraded suspension system
Rear spoiler wing
Adjustable limited slip differential
These are just some of the major differences mostly relating to performance. The standard interior features of the STI are similar to the Limited WRX.
The only comparable downside of the STI to the WRX is the lower fuel economy of 17mpg city and 22mpg highway.
If you want better performance and appeal, you will have to fork over a bit more cash. The base-level STI is currently running $36,595 MSRP.
The STI also comes in a Limited and Series Gray edition as well, though only about 250 of the Series Gray STIs were made.
Comparing the 2019 WRX to Similar Cars in Its Class
For a long time, the WRX and STI were the only cars of this performance and standard at an affordable and attainable price range.
More recently, however, there have been more manufacturers attempting to appeal to this growing market and producing great cars. Let's take a look at how the WRX and WRX STI compare to:
Ford Focus ST
Honda Civic SI/Type R
Volkswagen Golf R
Each of these cars is powerful and mighty, but how will they stack up?
Focus ST vs Subaru WRX
The Focus ST has been making a name for itself in the industry as a more powerful performance car. However, it doesn't quite reach the standards of the WRX.
First of all, the 2019 Focus ST falls short with its FWD configuration compared to the perfected AWD system in the WRX. It also has a significantly less powerful engine with only 160hp and 146ft-lbs of torque.
What it does have, though, is a lower MSRP and better fuel economy.
Honda Civic SI vs Subaru WRX
People have been modifying Honda Civics forever, and Honda has begun delivering a performance vehicle more suited to the community. That's the all-new Honda Civic SI.
In comparison to the WRX, however, it has the same critical issues as the Focus ST. No AWD and lower stock horsepower.
The Civic SI has 205hp and 192ft-lbs of torque which is still pretty powerful. Though, the handling and performance just don't quite match up.
Like the Focus ST, the Civic SI has a better fuel economy at 28mpg city and 38mpg highway. It's also a bit cheaper at $24,300 MSRP.
For only about $2800 more, though, you get a much more powerful, versatile, and better performing vehicle with the WRX.
What About the Civic Type R?
Now, a step-up from the SI would be Honda's Civic Type R. This one is definitely one to contend with. However, it's much more suitable to compare the Civic Type R with the Subaru WRX STI.
Let's start with engine specs: we know the 2.5L STI has a displacement of 310ph/290ft-lbs. The Civic Type R has a 2.0L engine with a displacement of 306hp/295ft-lbs.
The engines are similar in power and performance, however, there's quite a difference in handling.
Like the other competitors, this car comes FWD. This makes for good handling in certain conditions (like a straight line on a track) however, the powerful AWD system with front and rear limited slip diff on the STI take the cake.
The Civic Type R is definitely an incredible car and will be a force to be reckoned with in the coming years. But, for now, all-around performance still goes to STI.
Volkswagen Golf R vs WRX STI
Of course, this list wouldn't be complete without comparing the Golf R to the WRX and STI. Let's break it down.
Unlike the other competitors, this car does come with AWD, and that makes a big difference. However, the power still is lacking in comparison to the STI, coming it at 292hp and 280ft-lbs of torque.
It's also a bit heavier than the STI, which makes handling great but speed and performance a bit laggy.
The price difference leans towards the STI as well, as the Golf R runs for around $40,635 MSRP. Quite a contender, but it comes up just a bit short to the powerful and reputable STI.
The Right Car for You?
This year, Subaru truly delivered with a powerful and capable option for everyone. A wonderfully affordable base model WRX, a more sleek and stylish WRX Limited, an all-powerful edgy WRX STi, and a Series Gray edition for both.
No matter what you have in mind for your compact sports car, the Subaru WRX and WRX STI have what you need. Safety, performance, and style.
Looking for a new Subaru? Check out our selection of 2019 Subaru WRX and STI models available and start dominating the road today!
The Best in Subaru Service and the Best Shopping Experience at Subaru Prescott AZ
Findlay Subaru Prescott is driven to provide the best in service for their customers. The staff are caring, patient and sincerely value the needs of their customers, desiring to provide the ultimate satisfaction. The service is really all about you because it should be! Drivers of any vehicle are welcome to bring their vehicle into the service center to get the best care and maintenance from certified service technicians, with convenient Subaru Service Center hours. Subaru cares for the safety of all drivers and passengers alike and are happy to provide standout service, so you and your vehicle can enjoy a long ride together.
Findlay Subaru Prescott is equipped with a professional, courteous staff who go above and beyond. The Subaru dealership offers new Subaru cars for sale or lease, as well as used Subarus to provide an array of options for any budget, any circumstance.