Findlay Subaru Prescott would like to help you keep your Subarus on the road, as hassle-free as possible. To do that, we are offering $500 in savings on Subaru Added Security Gold Plus service contracts, to extend your vehicle protection for up to 8 years, or 120,000 miles!

Coverage starts at 6 year, or 60,000 mile duration, for an asking price of $1,200*. This means your after coupon price is only $700* for 6 years of coverage on your Subaru, with only a $100 deductible per repair visit!

EyeSight is a very important safety feature on many Subarus. Just think how many computers, and electronics are in a modern car, that increases a lot, when adding the new, passive safety features into the fold. Wouldn't you feel more comfortable knowing that for the next 8 years, or 120,000 miles of driving your brand new Subaru, you didn't have to worry about computer, or electronic failures?

Present this coupon when you get to see our Business Manager, to get $500 in savings on any Subaru Added Security Gold Plus plan, of 6 year / 60,000 mile coverage, or above. They will show you the best options that fit your driving habits, with the coupon savings deducted from our normal price.

Already own a Subaru?
As long as you are still within 3 years, or 36,000 miles of the original in-service date, we can still get your coverage extended! Give us a call at 928-771-6900 option 1 to set up a time to take advantage of this sale.

We look forward to helping you!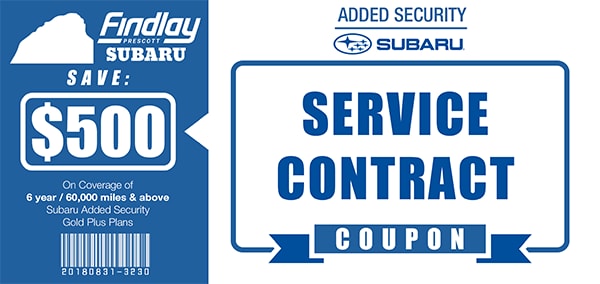 * WRX and STI have additional surcharges, in addition to the service contract price. WRX is $295; STI is $495.
Coupon offer cannot be combined with any other offers, coupons, or vouchers.