Everybody knows, Subaru Loves Pets, as our Subaru lineup is all Dog Tested. Dog Approved. Did you also know, that the crew at Findlay Subaru Prescott saved $100 from each new Subaru sale between October 1st and November 15th, to donate to the Yavapai Humane Society.
Yesterday, we presented a big donation check to Elisabeth Haugen, and three other members of the Yavapai Humane Society, to help them with their valiant efforts to find new homes for homeless pets.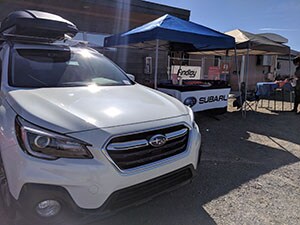 We also co-hosted three Name Your Price Adoption events with YHS, giving us the opportunity to help 37 pets find their forever homes! Dogs, cats, even a pair of mini horses were on-hand to show off their smiling faces, to try and woo some families to open their hearts, and homes to some new fur babies.