The 2022 Subaru Love Promise Customer and Community Commitment Award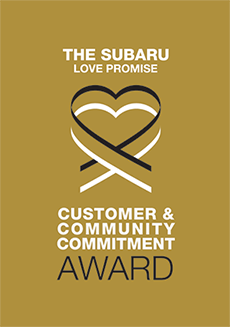 We've been nationally recognized for our dedication to our customers, our community, and the Subaru Love Promise.
We're honored to receive the 2022 Subaru Love Promise Customer and Community Commitment Award. This award nationally recognizes elite Subaru retailers who provide an exceptional customer experience at every interaction with Subaru. These retailers have also demonstrated an outstanding commitment to supporting passions and causes in their local communities in important areas such as the environment, community, health, education, and pets.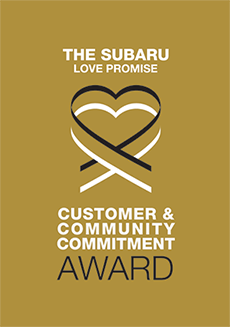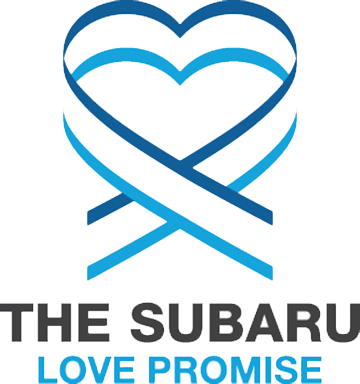 What is the Subaru Love Promise?
Subaru and our retailers believe in making the world a better place and the Subaru Love Promise is our vision of respecting all people. This is our commitment to show love and respect to our customers and to work to make a positive impact in the world.
How is Findlay Subaru Prescott dedicated locally to the Love Promise?
Findlay Automotive Group has a long-standing reputation of supporting local communities. Following in both Findlay Automotive Group & Subaru of America's footsteps, Findlay Subaru Prescott is committed to assisting our local community.
Catholic Charities, Launch Pad Teen Center, Yavapai County Search and Rescue Back Country Team, Yavapai Symphony Association, Salvation Army Toys For Tots
Love Promise Stories from Findlay Subaru Prescott
Subaru and Findlay Subaru Prescott believe in making a positive impact on the communities in which we live and work. We uphold that belief through our Love Promise Community Commitment. Every month, we select inspiring stories from customers and partners from around our area who strive to support our collective commitment and feature them here
Supporting Local Music and Musicians - scott o
As a musician I am proud to say that Findlay Subaru has been a big supporter of Prescott's thriving Blues Music Community. They have gone far and beyond helping to fund events such as The Windsock Sunday Blues Jam, The Greater Prescott Valley Blues Festival, the local International Blues Challenge and getting the winning band(The Scott O'Neal Band) to Memphis to compete. My band and myself are proud to have Findlay Subaru as a sponsor. Thank You. Scott O'Neal.
---
Subaru Loves Pets - Yavapai Humane Society - Loree W
Mochi is livin' the dream! This precious boy came to us from a hoarding situation, with 71 other dogs, in July. A 12 year old Chinese Crested / Mix who's was a little chunky and had only 2 teeth so his little tongue hung out the side of his mouth. He had growths all over his entire body, scars on his legs, and cataracts were forming on both eyes. Not exactly the characteristics visually of a dog people want to adopt. He did really well in his kennel and while he barked at new people when he first met them, he quickly warmed up. He would turn into a big ole softy, rolling onto his back looking for pets and belly rubs, which we gladly gave him. He was always excited and ready to go for a walk and explore the world outside. He was an active, fun, loving, and happy little dog who unfortunately was overlooked due to his appearance. There were a few other Chinese Crested dogs who were adopted quickly, leaving Mochi the only one left behind. People always look for that perfect cute dog who is younger with no health issues, leaving the older dogs waiting for their forever homes. Well, Mochi's life changed in the greatest way when Bart came into his life. Bart had seen Mochi on our website and through our Facebook posts about Subaru Loves Pets, and made an appointment to come meet the little guy. It was love at first sight for both of them. Bart already had 4 dogs but he knew he had to have Mochi added to his family. He adopted Mochi that day and Bart now has 5 happy dogs who all get along and complete his family. The little guy goes to work with Bart every day and has become the office social butterfly. He's no shy boy now, and is certainly enjoying all the attention and affection he gets every day! He's been out on motorcycle rides, going for long walks, playing in the yard, and truly living the dream! Mochi was certainly looked at as an underdog, but look at how she's soaring now! Thank you Findlay Subaru for always being there for the animals and Yavapai Humane Society. This community is a better place because of you!
---
Angels Among Us - Wendie M
Findlay Subaru is not just a successful Prescott business; they epitomize human kindness and community spirit through their Subaru-Love-Promise program. This week, the dealership extended their generosity to our non-profit animal search and rescue team. We are humbled and so very appreciative for Findlay Subaru's donation. The funds help us continue our animal search, rescue, foster and adoption program. Our team at Yavapai Humane Trappers spends endless hours searching for injured, lost and abandoned animals. Our transporters bring animals to safety in the form of either a foster or a vet clinic based on their situation. We do our best to reconnect lost animals with their owners. Findlay Subaru helps to make our mission a reality. Our foster families provide a transition period for abandoned animals where they learn to trust that people can be kind. When the animals are ready, Yavapai Humane Trappers ensure that they are vetted and micro chipped. Our goal is to ensure that each rescued animal finds an adopted family where their lives are filled with family and love. Findlay's collaboration with our organization brings success to our mission! Thank you Findlay Subaru for your commitment to our community. It is an honor to be a recipient of your donation to animal welfare. In a world that sometimes spins too fast, Findlay Subaru reaffirms that there are angels among us!
---
Cornerstone Family Chiropractic - Sol N
Findlay Subaru Prescott sponsored Cornerstone Family Chiropractic's Beards, Brews, BBQ event to help support Yavapai Humane Trappers, a nonprofit animal rescue, adoption and foster organization here in Northern Arizona! This event would not have happened without the generous sponsorship and support we received from Findlay Subaru Prescott. They went above and beyond not only with their sponsorship dollars; but also brought their own golf cart for us to use at our event for our guests that would have difficulty walking from the parking lot. We certainly hope Findlay Subaru Prescott will support our efforts in 2022, where we plan to make it bigger and better. Thanks Findlay Subaru Prescott!
---
Road trip - Brent K
Well , we finally packed it up and did a road trip with Brady and Ollie in our 2021Subaru Forrester . Wow such fun. Room galore for the dogs, and roof basket took the rest. Just an amazing , smooth ride . Thank you to everyone at. Findlay Subaru in Prescott Arizona. Great staff… everyone!
---
ABOVE AND BEYOND - Brent K
I recently purchased a new 2021 Forester and am so impressed. Every single person who works here has a vested interest to make it right. They do that and more. I was introduced to every department, trained twice on how to use all the new things in a car. And the purchase was the easiest I have ever had in buying. I am a first time Subaru owner… not the last one I will have. I am so happy with it. Thank you all at Findlay Subaru of Prescott!
---
Animal Conservation - Heritage Park Z
We love our community! The sanctuary was hit hard last week when our freezer suddenly stopped working, and we lost a substantial amount of the meat that we use to feed our animals. Keepers and sanctuary staff worked hard to save whatever meat we could as quickly as possible, and we were able to get our freezer back up and running again. We would like to send a huge thank you to Findlay Subaru Prescott in Prescott, AZ for their extremely generous meat donation for our animals! They have given us a great start! Thank you so much for your continued support of the sanctuary!
---
Everyone Loves Cookies - US V
"U.S. VETS received a gift of Girl Scout cookies from Findlay Subaru Prescott. These wonderful cookies will be a treat for our clients to enjoy! Thank you Findlay for this incredibly thoughtful treat!!" Findlay Subaru Prescott was proud to support Sadie from Troop 3145 and Shae Pratt from Troop 1126 Girl Scouts of America, with the purchase of over 300 boxes of cookies total. These cookies were kindly donated and delivered to Matthew Phillips and Prescott Area U.S. Vets.
---
2021 Granite Creek Cleanup - PRESCOTT C
484 community volunteers turned up at Granite Creek Park to achieve common goal – making Prescott and its many waterways a bit nicer for all to enjoy. As a result of this remarkable event, 1.22 tons of trash and 12 tires were removed from a total of 38 different locations around the community. Those locations were along creeks, in parks, at lakes, and on trails throughout the greater Prescott area. Findlay Subaru Prescott as the premier sponsor has been incredible support in continuing the springtime ritual of celebrating local waterways and natural places with the Granite Creek Cleanup. Findlay Subaru Prescott takes part in the Green Dealership Award for Energy Efficiency, Water Conservation, Recycling, Waste Management, Community Involvement.
---
Primavera School and Subaru LOVE the Earth! - Shelli W
Primavera School is a private, Pre-K through 5th grade school in Prescott, AZ. Our school is happy and fortunate to offer our children a beautiful, forested environment with lots of learning and play activities outdoors including our community garden, chicken coop, and walking trails. We have long been dedicated to Earth and environmental education. In fact, our Pre-K kids' motto is: "Who's responsibility is it to care for the Earth?... Our's!" We began our 2020-2021 School Year committed to that statement and improving and growing our recycling program. We are SO THANKFUL to Findlay Subaru of Prescott and Subaru of America's partnership with Terracycle!! Now we are eliminating more waste than ever! Through this wonderful program, we can recycle all snack bar, snack bag and chip bag waste from our packed lunches and snacks. It has made SUCH a difference! If it weren't for the big heart and Scottish tenacity of Menzies David Macfarlane aka, "Mac" this program would not have gotten off the ground. But we couldn't stop there! This partnership between Subaru of America and Terracycle inspired us to go even further! Now our Preschool program is making Eco Bricks with the initial goal of building a planter/bench for our playground area. Eco Bricks are literally plastic bottles (like water, juice and soda bottles) packed tight with other plastic waste. These become building blocks for all kinds of functional uses and creative ideas. Plastic pollution is one of the most critical environmental issues today. Eco Bricks are a way to eliminate plastic waste that begins in landfills and then flows through waterways into our rivers, streams and oceans, killing valuable marine life and creating toxicity in our water supply. We are pleased to say that Primavera is one of only two schools in the state of Arizona that are currently making Eco Bricks. We hope that we can inspire other kids, schools, teachers and parents across the nation to eliminate, reduce and recycle plastic waste. Thanks again Findlay Subaru of Prescott, Subaru of America and Terracycle for making the Subaru Loves the Earth Program available! Each and everyone of us (no matter how small) can make a positive impact to fight for our Future and our precious Planet Earth. Love from the Preschoolers at Primavera School, Prescott.
---