The 2021 Subaru Love Promise Customer and Community Commitment Award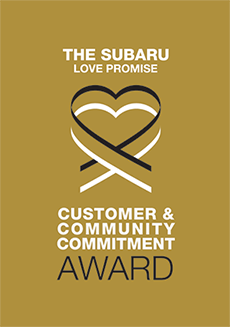 We've been nationally recognized for our dedication to our customers, our community, and the Subaru Love Promise.
We're honored to receive the 2021 Subaru Love Promise Customer and Community Commitment Award. This award nationally recognizes elite Subaru retailers who provide an exceptional customer experience at every interaction with Subaru. These retailers have also demonstrated an outstanding commitment to supporting passions and causes in their local communities in important areas such as the environment, community, health, education, and pets.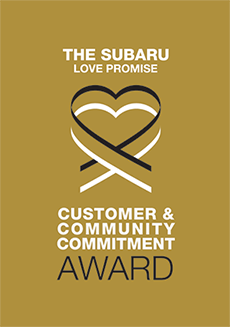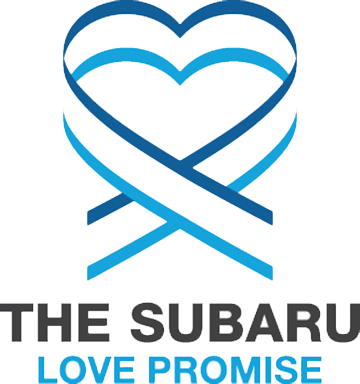 What is the Subaru Love Promise?
Subaru and our retailers believe in making the world a better place and the Subaru Love Promise is our vision of respecting all people. This is our commitment to show love and respect to our customers and to work to make a positive impact in the world.
How is Findlay Subaru Prescott dedicated locally to the Love Promise?
Findlay Automotive Group has a long-standing reputation of supporting local communities. Following in both Findlay Automotive Group & Subaru of America's footsteps, Findlay Subaru Prescott is committed to assisting our local community.
Catholic Charities, Launch Pad Teen Center, Yavapai County Search and Rescue Back Country Team, Yavapai Symphony Association, Salvation Army Toys For Tots
Love Promise Stories from Findlay Subaru Prescott
Subaru and Findlay Subaru Prescott believe in making a positive impact on the communities in which we live and work. We uphold that belief through our Love Promise Community Commitment. Every month, we select inspiring stories from customers and partners from around our area who strive to support our collective commitment and feature them here
ABOVE AND BEYOND - Brent K
I recently purchased a new 2021 Forester and am so impressed. Every single person who works here has a vested interest to make it right. They do that and more. I was introduced to every department, trained twice on how to use all the new things in a car. And the purchase was the easiest I have ever had in buying. I am a first time Subaru owner… not the last one I will have. I am so happy with it. Thank you all at Findlay Subaru of Prescott!
---
Animal Conservation - Heritage Park Z
We love our community! The sanctuary was hit hard last week when our freezer suddenly stopped working, and we lost a substantial amount of the meat that we use to feed our animals. Keepers and sanctuary staff worked hard to save whatever meat we could as quickly as possible, and we were able to get our freezer back up and running again. We would like to send a huge thank you to Findlay Subaru Prescott in Prescott, AZ for their extremely generous meat donation for our animals! They have given us a great start! Thank you so much for your continued support of the sanctuary!
---
Everyone Loves Cookies - US V
"U.S. VETS received a gift of Girl Scout cookies from Findlay Subaru Prescott. These wonderful cookies will be a treat for our clients to enjoy! Thank you Findlay for this incredibly thoughtful treat!!" Findlay Subaru Prescott was proud to support Sadie from Troop 3145 and Shae Pratt from Troop 1126 Girl Scouts of America, with the purchase of over 300 boxes of cookies total. These cookies were kindly donated and delivered to Matthew Phillips and Prescott Area U.S. Vets.
---
2021 Granite Creek Cleanup - PRESCOTT C
484 community volunteers turned up at Granite Creek Park to achieve common goal – making Prescott and its many waterways a bit nicer for all to enjoy. As a result of this remarkable event, 1.22 tons of trash and 12 tires were removed from a total of 38 different locations around the community. Those locations were along creeks, in parks, at lakes, and on trails throughout the greater Prescott area. Findlay Subaru Prescott as the premier sponsor has been incredible support in continuing the springtime ritual of celebrating local waterways and natural places with the Granite Creek Cleanup. Findlay Subaru Prescott takes part in the Green Dealership Award for Energy Efficiency, Water Conservation, Recycling, Waste Management, Community Involvement.
---
Primavera School and Subaru LOVE the Earth! - Shelli W
Primavera School is a private, Pre-K through 5th grade school in Prescott, AZ. Our school is happy and fortunate to offer our children a beautiful, forested environment with lots of learning and play activities outdoors including our community garden, chicken coop, and walking trails. We have long been dedicated to Earth and environmental education. In fact, our Pre-K kids' motto is: "Who's responsibility is it to care for the Earth?... Our's!" We began our 2020-2021 School Year committed to that statement and improving and growing our recycling program. We are SO THANKFUL to Findlay Subaru of Prescott and Subaru of America's partnership with Terracycle!! Now we are eliminating more waste than ever! Through this wonderful program, we can recycle all snack bar, snack bag and chip bag waste from our packed lunches and snacks. It has made SUCH a difference! If it weren't for the big heart and Scottish tenacity of Menzies David Macfarlane aka, "Mac" this program would not have gotten off the ground. But we couldn't stop there! This partnership between Subaru of America and Terracycle inspired us to go even further! Now our Preschool program is making Eco Bricks with the initial goal of building a planter/bench for our playground area. Eco Bricks are literally plastic bottles (like water, juice and soda bottles) packed tight with other plastic waste. These become building blocks for all kinds of functional uses and creative ideas. Plastic pollution is one of the most critical environmental issues today. Eco Bricks are a way to eliminate plastic waste that begins in landfills and then flows through waterways into our rivers, streams and oceans, killing valuable marine life and creating toxicity in our water supply. We are pleased to say that Primavera is one of only two schools in the state of Arizona that are currently making Eco Bricks. We hope that we can inspire other kids, schools, teachers and parents across the nation to eliminate, reduce and recycle plastic waste. Thanks again Findlay Subaru of Prescott, Subaru of America and Terracycle for making the Subaru Loves the Earth Program available! Each and everyone of us (no matter how small) can make a positive impact to fight for our Future and our precious Planet Earth. Love from the Preschoolers at Primavera School, Prescott.
---
2021 Prescott Bridal Affaire Expo - KILI M
For the Second year in a row Findlay Subaru Prescott continued to "Share the Love" by sponsoring the 16th Annual Prescott Bridal Affaire Expo 2021 Presented by StarStruck Event Planning. This event is the largest on going Bridal Affaire Expo Event in Northern Arizona! Findlay Subaru Prescott loves to be involved in our community no matter the occasion.
---
SubiWars Arizona 2021 - FINDLAY SUBARU PRESCOTT F
Findlay Subaru Prescott sponsored this years First Annual SubiWarsAZ 2021 Event! All Subaru models welcome! "SubiWars is for the daily driven, the lifted, and the lowered. It's for the car show trophy taker and the glass shattering audio winners. It's for the bone-stock minty owners and the rally worn and torn adrenaline junkies. SubiWars is for every type of Subaru Owner." This car show brought Subaru Owners together from all over; California, Utah, Illinois, Maine, etc. We hope to see this event get bigger and better every year!
---
SubiWars Arizona 2021 - KILI M
Findlay Subaru Prescott sponsored this years First Annual SubiWarsAZ 2021 Event! All Subaru models welcome! "SubiWars is for the daily driven, the lifted, and the lowered. It's for the car show trophy taker and the glass shattering audio winners. It's for the bone-stock minty owners and the rally worn and torn adrenaline junkies. SubiWars is for every type of Subaru Owner." This car show brought Subaru Owners together from all over; California, Utah, Illinois, Maine, etc. We hope to see this event get bigger and better every year!
---
Subaru's Truly DOES "SHARE THE LOVE" - Loree W
Findlay Subaru has been an incredible partner to Yavapai Humane Society and their annual Share the Love Event just goes to prove it! In October, we held an adoption event there and because of that, there truly was a happily ever after for a beautiful Golden Retriever named Keena! This sweet, beautiful girl was surrendered to us because her family could not take care of her financially due to the pandemic. Everyone at the shelter immediately fell in love with her and her sweet disposition. You could tell that she was a little freaked out at her new surroundings, but she just seemed to provide a smile and love when you walked by her kennel. She was such a happy girl looking for her furever!!Ironically, Findlay Subaru was hosting an adoption event for us that weekend and we decided that Keena needed to go share her love! THAT is exactly what she did… enter Elizabeth, who heard about the event but really had no intention of getting another dog. She came to our tent, saw Keena and it was absolutely love at first site! Keena was under the tablecloth and just had her nose sticking out… she saw Liz and came right out to see her, and magic happened! Liz has 2 dogs who are a little bit older, but she felt quite sure that this would be a good fit! So, Liz adopted Keena on the spot! Her two dogs, Lola and Bodie, were both rescues. Keena came into the house and it was as if a family was instantly formed. Lola and Bodie almost became Keena's parents and the bond was immediate! The snuggling started, the playing together started and Keena knew she was HOME! Yes, there were moments of everyone learning their place in the family, but it didn't take long at all! If not for Subaru's Share the Love Event, Keena and Liz might have never met and had this "happily ever after". Keena is now thriving in her new home, with a big yard and brothers and sisters who love her. She is a big ole' cuddle bug to everyone in the house and has truly settled in. She probably has no recollection of her life before Liz, and it doesn't matter because she is HOME SWEET HOME thanks to Prescott Subaru and their Share the Love event!
---
New Partnership Propels us to the Mountaintops! - Jo S
Our Love Story begins with the sale of a Subaru Forester to a Board member of our nonprofit organization, Friends of Yavapai County ARES/RACES (FOYCAR). After a delightful day at Findlay Subaru Prescott with Matt Pompay, Product Specialist and followed by an informative meeting with John Van Winkle, Love Encore Specialist, our new Subaru owners asked about the dealership's Community Involvement and sponsorship opportunities. They were quickly referred to "call Sol", the Marketing Director and answer man for all such inquiries. After a brief discussion of what FOYCAR is all about, Sol facilitated a meeting with "Mac" Macfarlane, General Manager and Joe Porto, Sales Manager. Three of our FOYCAR board members made a presentation to describe our organization's mission and pending expansion projects. Our group is committed to enhance and ensure public safety communications during an emergency. In order to achieve game-changing new capabilities, we have developed a high-speed microwave network on amateur radio frequencies. Once this WiFi network is implemented, it would enable emergency responders to make calls, send texts, access the internet, remotely view & control webcams all when their normal communication channels have been overwhelmed or have failed during an emergency. We know clear and constant communication is key to resolving any crisis situation. This critical, multi-phase project has been initiated with 2 nodes in place on local mountain tops that connect into Maricopa County. In order to complete the build of the network's backbone, we are seeking grants to fund our next phases. Mac, who is very preparedness minded and appreciates the important role FOYCAR has within Yavapai County emergency responders, said "yes" to an immediate $1,000 check and a promise to continue to partner with our organization moving forward. Findlay Subaru's generosity and commitment to health & safety of the community will help ensure that emergency responders can continue to communicate effectively in any incident. A heartfelt thanks from our 65 member volunteer organization at FOYCAR who are committed to being the emergency communicators when all else fails. Our experiences in 2020 have certainly illustrated that chaos can happen, even in Yavapai County. FOYCAR is striving to make sure our community is prepared and can respond effectively, whatever challenge comes our way.
---
Hitmen Youth Football - Ryan P
Findlay Subaru of Prescott was generous enough to sponsor our Hitmen Youth Football Organization. Our teams are comprised of nearly 100 Youth Athletes from Prescott and surrounding areas that learn the game of football, and thus the game of life! In a challenging 2020 year, we are so thankful that Findlay Subaru is still passionate to provide outreach to our community and give our kids a local and safe place to play, meet new friends, and develop competition. Thank you!
---
Helping to sustain the WESTERN HERITAGE CENTER - Dennis G
Thanks to Findlay Subaru and Subaru Corporate for helping our Western Heritage Center survive the severe negative impact from the COVID 19 shutdown and the loss of revenue from our usual fundraising activities and programs. Both Mac MacFarlane and Sol Noor have worked hard to ensure that we get through this year by including our Foundation in the Subaru "Share the Love" program which will greatly benefit our Western Heritage Center. The Western Heritage Center is a "Showcase" of organizations and private exhibits that help preserve and promote our history and heritage. Unlike a museum, the Center does not charge admission and is accessible to everyone. Our Foundation believes that it is our responsibility to the community to share this educational experience. Our scholarships for ages 16-21, and our educational outreach program for elementary school-age children has been very successful since 2014. We have awarded 11 $2,000 scholarships during this time frame, and we have funded history related programs at Skyview School. Thanks again to Mac and Sol!
---
Navajo Nation Needs! - Sol N
The Prescott Frontier Rotary Club collected over $11,000 in checks above the food and cleaning donations collected at Watters Garden Center. Mac Macfarlane from Findlay Subaru Prescott, showed up with his giant 7 passenger Subaru Ascent, stuffed with goodies purchased from Costco. Findlay Subaru Prescott reacted immediately to Prescott Frontier Rotary Clubs call to help Navajo Nation Needs! . Thank you Mac and Findlay Subaru Prescott.
---
Kind Defined Festival of Trees - Kara P
Kind Defined is excited to announce a successful and well-attended new community holiday event in Prescott, thanks to the generous support and dedication of the Findlay Subaru Prescott team. Kind Defined is a small non-profit, and we were looking for the perfect fundraiser that would work well with our child, family, and community mission, have the potential to grow to be the only fundraiser we would need to do and be something this community has not yet seen, but would welcome. The manager at Findlay Subaru Prescott, Dave "Mac" MacFarland saw the vision, realized the potential for Kind Defined and enabled our organization to have a very successful Festival of Trees. Not only did Findlay Subaru Prescott give us the monetary support we needed to hold this massive 3-day event, but because "Mac" and his wife, Julie, have been involved in similar events in Utah, they counseled us in ways to be even more successful in the future. A Festival of Trees is an enormous undertaking and the last night all of those trees, we had 48, have to be wrapped. The Findlay Subaru Prescott team stayed into the late hours to help us get our work done. It was an honor and humbling to receive the monetary assistance, the true partnership in realizing a goal and the assistance in manpower from a sponsor who came to our event two of the three days. At Kind Defined we felt completely supported by Findlay Subaru Prescott and are so grateful for this wonderful and warm group of people.
---
Yavapai Humane Society Loves Findlay Subaru - Loree W
Findlay Subaru is an amazing supporter of not only Yavapai Humane Society but our entire community! They truly know the meaning of being a positive force within the community leading by example in all that they do. Findlay Subaru has helped Yavapai Humane Society through the years by being a major sponsor, not only for our Fundraising Gala but also our Walk for the Animals. They have provided a permanent information table for Yavapai Humane Society in their lobby, have sponsored numerous adoption events for us at the dealership and they are there for us with whatever we may need. We were the recipients of the most recent Subaru Loves Pets event which resulted in them presenting us with a check for $20,000!! Mac, their General Manager, and his team at Findlay Subaru are an amazing group of caring people who truly do "Share the Love". We are honored and proud to be a community partner with Findlay Subaru and we thank them for everything they have done and continue to do for Yavapai Humane Society.
---
2200 Miles from home. - Bill C
My son recently moved to Prescott for his new job. We drove his 2006 Subaru Tribeca from Lake Wylie SC to Prescott AZ. on a great 2 day road trip. We made it all the way to Prescott with no issues until our first night there and our low beam headlights and fog lights wouldn't come on, yet we still had high beam headlights. We checked all the fuses and replaced a relay with no help. So we ended up 2200 miles from home with a vehicle that only had high beam headlights. We stopped in to Findlay Subaru and talked with Robert Frank about our situation. Mr. Frank said that he could not fit us in today but come back tomorrow at 10:30 and he would fit us in. The next day we arrived at approx. 10:00 and Mr Frank helped us with taking a description of the problem, helping us get a loaner car and putting us at ease. Mr. Frank was GREAT to deal with!! Not knowing what was going to happen next I gave Mr. Frank my phone number and my sons phone number and asked that he please call me when the problem was resolved. That night i caught the red eye flight back to Charlotte NC. and kept wondering what the issue with the car could be. The next afternoon i received a phone call from Mr. Frank and he said that they found the problem to be all four bulbs blew at once. I ended up paying for the repairs to my sons car over the phone and was very pleased and thankful for everything that Mr. Frank and everyone at the dealership had done for us. It is hard to find a business that truly cares about the customer anymore and your dealership definitely excels when it comes to customer service. I can't thank Findlay Subaru and Robert Frank enough! You have gained a customer for life thanks to your exceptional service. PS We have two Subarus in our family and they are both great cars.
---
Our community is lucky - Courtney O
Mac (General Manager at Findlay Subaru Prescott) is truly one of the most genuine & kind people I have ever met. Thank you for your love & support at the Launch Pad. I sincerely love seeing you and your wife, Julie. Maybe there is a way we can get our teens more exposure to who you are & how you lead. Our community is lucky to have you & Julie. Sincerely - Courtney
---
Spence Springs Trailhead Construction - Christian R
Without the extraordinary financial support of Findlay Subaru Prescott, it would have taken us months, and a lot of pounding the pavement to raise enough funds to complete this project. By supporting the construction of this trailhead, outdoor activity lovers will have a safer, less environmentally damaging parking area. It also helps keep the road clear, making it easier for residents in the area to get to and from their homes.
---
Spreading "Warmth and Cheer" in July - Naomi M
On July 11, the AZ-LLS Chapter and Findlay Subaru Prescott Arizona had the pleasure of delivering blankets to AZ Oncology-Prescott as part of the Subaru Loves To Care program. These comforting gifts were accompanied by personalized messages of hope written by the customers and staff of Findlay Subaru Prescott. AZ-LLS was also pleased to meet a local patient who is also the grandmother to one of the staff of Findlay Subaru Prescott. This incredible act of generosity was warmly received by the AZ Oncology- Prescott who were thrilled to distribute these comforting gifts to their patients. LLS is proud to partner with Subaru to spread hope, love and warmth to those fighting cancer, across the country and right here in the Northern AZ community.
---
Findlay Subaru Prescott Made Our Event Amazing - Larraine S
Without the extremely generous support of Findlay Subaru Prescott, the 2018 Yavapai County 4H/FFA Expo would not have been as much of a success as it was. Their team supported our event financially, as well as being on-site for the entire event. Our youth work very hard to raise their animals, to bring to this expo. Without supporters, such as Findlay Subaru Prescott, it would not be possible.
---
Supporting Area Youth - Courtney O
Findlay Subaru Prescott has helped make our move into a brand new teen drop-in center a much less stressful time. As partners with our Ground Control program, they are donating funds to us each month, allowing us to focus on our new building. Without the donations from amazing supporters, such as Findlay Subaru Prescott, we would not be able to provide as many of the programs, services & materials for the teens that use our free center. We offer a variety of workshops, activities, and events for area teens, to help their innate abilities, talents, and interests, all in a group environment for the teens to learn valuable social skills, express emotions & feel safe to become vulnerable, while also learning responsibility and accountability. Everybody is looking forward to seeing how this partnership grows!
---
Blankets in July...Oh My! - Naomi M
The Leukemia and Lymphoma Society AZ Chapter and Findlay Subaru Prescott recently visited AZ Oncology in Prescott Valley. Executive director, Jim Brewer met with Jennifer Gregg and Christian Robinson to greet patients with blankets and messages of hope. The patients were overjoyed with their special gift as they received their treatments. This marks the third year with the Subaru Loves to Care campaign and visit to Prescott. LLS thanks Subaru of America for this opportunity to connect with the local community.
---
So many bikes! - Joe I
Findlay Subaru Prescott donated a new bicycle to our Prescott Area Toys For Tots chapter this year, in time for Christmas! We had DOZENS and DOZENS of bikes arrive at our distribution facility on Saturday. We were completely overwhelmed by their generosity. By donating so many bikes, of various sizes, and boys/girls bikes, we will be able to put huge smiles on many more faces this Christmas season.
---
Subaru Knocked Our Socks Off - Elisabeth H
This spring,a commercial played on the radio announcing that the Findlay Auto Group had come to town and was looking for nonprofits in the community to support. We had never partnered with Subaru before but were excited to give it a shot. My local animal shelter, Yavapai Humane Society, is always in need of support and the prospect of a company inviting partnership is unique and special. A grant opportunity was announced by Subaru and the ASPCA encouraging shelters like ours to partner with a local Subaru retailer for events for the Share the Love and Subaru Loves Pets campaigns. Our local Subaru retailer, Findlay Subaru of Prescott, was more than excited to collaborate. That was the first sign that our new Subaru friends were going to come through in a way that we never expected. The planning of two adoption events followed--one at our shelter and one at the Subaru dealership. We experienced the excitement of filming a TV commercial with Findlay Subaru of Prescott to promote the events, showcasing adoptable pets and the philanthropic spirit of Subaru. Meanwhile the dates of the events grew closer and I saw Findlay Subaru of Prescott's compassion all over the community--from donating 500 turkeys to our community's food pantry Thanksgiving Drive, to sponsoring a number of nonprofit fundraising events, to putting bikes together for Toys For Tots. Their impact in our community has been undeniable. In the back of my mind, I wondered if there would be enough goodwill to go around as we waited with anticipation for our adoption events. October came and Findlay Subaru of Prescott announced that with every Subaru sold our local retailer pledged to donate $100 to Yavapai Humane Society! Our first adoption event was held on October 21. Findlay Subaru of Prescott brought vehicles for display, adopter kits and free swag for our shelter visitors, and their positive energy. They were more than excited to entertain our adoptable pets and engage with shelter guests. It was such a fun experience that our local Subaru retailer invited us for two extra adoption events in addition to the two we had planned! The following events took place on October 27, and November 17-18. The experience was nothing short of terrific. Subaru went above and beyond to accommodate our shelter pets, volunteers, and staff at their location. In fact, several employees ended up adopting dogs and giving them a forever home! In all, 37 dogs and cats were adopted through our events with Findlay Subaru of Prescott. One adoption event even sent our staff back to the shelter with an empty van after having adopted all 5 dogs we took with us--a first for our animal shelter! The only thing to wrap up was the proceeds from the $100 donated to our humane society per Subaru sold. Drum roll, please.... Findlay Subaru of Prescott invited us to a check presentation and kept the total a surprise. The anticipation was more than we could stand! Gasps of shock and wide eyes came from every staff member when it was revealed that Findlay Subaru of Prescott had raised $7,800 for our humane society! Every part of collaborating with our local Subaru retailer was an absolute delight--from their hospitality and positive energy during the events, to the generosity of their donation, to the power behind their marketing to raise awareness of our efforts. We remain so grateful for the commitment to good corporate citizenship that flows throughout the Subaru company and reaches out, touching the lives of pets and people in our community.
---
FIndlay's At Prescott and LLS-AZ= A Winning Team - Leukemia and S
The Leukemia & Lymphoma Society of Arizona (LLS) Executive Director, Jim Brewer met with Mark Falk, General Manager of Findlay Subaru to deliver blankets to blood cancer patients. LLS was thrilled to partner with Findlay Subaru Prescott and AZ Oncology. It was great to see the partnership continue to develop that supports the mission of LLS: to improve the lives of our patients and families and to help find a cure for blood cancer. LLS thanks Subaru for thier commitment to the local community.
---