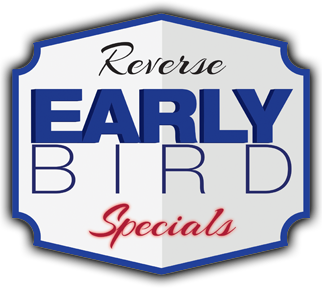 Most mundane tasks, errands, and honey-do's are best tackled head-on, first thing in the morning, to get them out of the way. While that is great for most things you need to get done, the a great number of Prescott area's residents like to visit our Service Department first thing in the morning, so they can get back on the road, and where they would rather be.
There is a slight hiccup with this, as it leads to lines, longer waits, and can backfire on getting things done first thing in the morning.
To help combat the crowded morning lines, our team has come up with a solution! The Reverse Early Bird Specials program for our service guests. Between the hours of 1pm and 5pm, Monday - Friday, we are offering the discounts below for those who would like to save time AND money, by procrastinating, just a little bit.