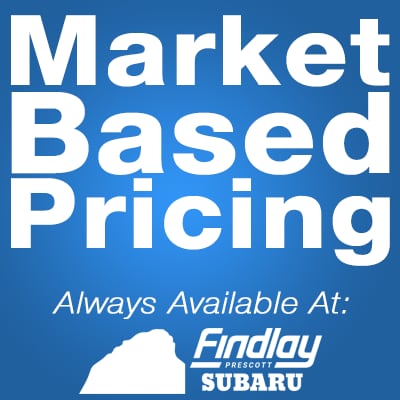 With the number of people who enjoy going to dealerships, and haggling for the best price* possible on the new Subaru they are shopping for has dwindled to almost nil, Findlay Subaru Prescott is changing things up for you! Our entire inventory of new Subaru cars & SUVs for sale in the Prescott area have been plugged into software that shops for similar Subarus for sale within our area!
Once we have our Subaru inventory plugged into the pricing software, we compare each available Subaru for sale versus the competition.
What this means for you, as a buyer, is we have the BEST price on each new Subaru we have for sale, based on trim level, options, color, etc.
Let our team do the shopping.
You get the great deals!
Check out the table below for an idea of how we look at our pricing model:

As you can see, there are forty (40)  Subaru Outbacks available at dealers outside of Prescott, Arizona. We would like to save you the hassle of haggling, so we are offering amazing value for a respectable price. The red line is where this particular Outback is priced. The only ones below the red line? Those are less desireable colors. Ours, for this example, is Crystal White Pearl with black cloth interior, compared to a less sought after Crimson Red Pearl with Ivory interior.
* Best Price: At Findlay Subaru Prescott, we do not provide our second best price, and make you jump through hoops to get our best price. We want to respect your time & keep your car buying experience as stress free as possible.
If you have any questions, please let us know how we can help you find your next new Subaru, for the best market based price available!