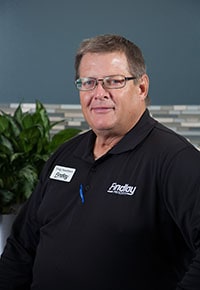 Greg has an extensive history of working with Subaru customers since 2011, a vehicle manufacturer that he is delighted to represent.
"I love the brand and everything about it. It holds its value better and the longevity holds up, plus it has received Top Safety Pick+ awards."
With his tenure at Findlay, Greg is considered one of the elders of the team, leading by example the Subaru Love Promise to newcomers on the team.
"This whole place is like a family. We all get along. We go above and beyond. We tell the youngsters we are a family, that's our philosophy."
When you receive love you want to share the love to customers and co-workers alike. Greg shares the warmth with his customers. His passion for Subaru vehicles makes his job fun and easy, as his customers drive away happy and satisfied.
Knowing that buying a car is a detailed process and an investment, Greg engages with his customers to ease any nerves or discomfort.
"It's our job to put the customer at ease and to feel confident about their decision."
Greg's desire is for his customers is to feel as confident buying a new Subaru or used Subaru as he does selling them. He is a dedicated part of the team as he promotes the Findlay Auto Group over any other.
"When I sell a used car, I can sleep at night. Findlay backs up everything they sell. It's a safety factor, we fix it."
Ask Greg to tell you about his experiences with customers on a test drive where he has witnessed the state-of-the-art safety features of Subaru avoid accidents, all thanks to the EyeSight Driver Assist Technology.
"A customer bought an Outback and didn't think she needed EyeSight. She ended up getting it in her model and within two weeks of having the car she knows EyeSight saved her from two accidents."
Greg's Subaru lifestyle consists of riding dirt bikes, mountain bikes, and motorcycles. His favorite model Subaru is the base model Subaru WRX as it boasts versatility and a lot of fun for the money; a sports car that sits four comfortably, with a trunk and can handle in the snow.
Greg was born in Southern California and raised in Williams, AZ where he grew to love the ranch life. After 15 years in Colorado he landed back in Prescott, residing in town since 2003.