As of January, 2019, Cindy has decided to change her path in life, and has left our family.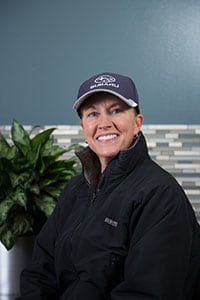 Cindy has been a faithful asset to the Prescott Subaru dealership team for a year onward. She strives to make her customers just as comfortable as she feels being part of the Subaru family. Cindy is warm and inviting, spending quality time with each customer making it a goal to personalize every experience.
"I've been on the other side of the desk, I've experienced all of it." Cindy's method is to make the car-buying experience as easy as possible, with no intimidation or overwhelm. Her priority is to consult with the customer their reason for visiting Findlay Subaru Prescott and to assist in anyway possible.
Cindy is an excellent listener of needs, pinpointing and highlighting key features in each of the Subaru models to provide the right vehicle for her customers.
What she loves most about her line of work are the hugs and the appreciation she feels from her customers when they drive off the lot in a vehicle they are satisfied with.
"It's all about the experience. I want to work with the customers and build their trust to make it as easy as possible." Cindy's transparent approach immediately puts customers at ease and for a comfortable ride from start to finish.
An owner of a 2018 Subaru Forester, Cindy quickly fell in love with the compact SUV after switching from her Toyota RAV4.
"Subaru is superior. It's a smoother ride, a tighter ride and very reliable. I live in Prescott with inclement weather, I like the comfort of knowing I can drive in any weather."
With an associate degree in Business Management, she has garnered many talents from her corporate level work experiences.
A resident of Prescott for 10 years, Cindy enjoys spending time with her family and within the community. She appreciates down time to enjoy murder mysteries, sudoku puzzles, and history.

For each friend, family member, co-worker, etc that you refer to me (who purchases their next car from our dealership) - we will get you a $100 check! Who would like to earn some extra cash, while helping a friend #ShopPrescott?