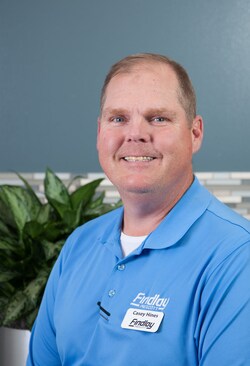 Casey found his niche of being a sales consultant when a former boss recognized that he was in the wrong department. "He said what are you doing in the warehouse, you're a people person." Casey landed in the Prescott Subaru dealership because he believes in the quality of the product Subaru produces and the philosophy of the company, stating, "They are grounded in who they are. Subaru is local friendly, they take it to a different level."
What makes his role enjoyable are the relationships he builds with each of his customers. He prefers the listening part of the conversation, then asking the more detailed questions to get his customers exactly what they need and want. Adding humor to the mix, Casey tailors his customers' time at the Subaru dealership to be the most enjoyable possible. With his laidback, no pressure demeanor, he respects the customer's time and decision.
Casey is a "happy-as-can-be" owner of his newly purchased 2001 used Subaru Forester. He trusts his Forester to haul feed and shavings for his Rhode Island Reds chickens. He uses his Forester like a truck loading grass and bricks, taking advantage of the spacious interior cargo load and trusting its durability. It's perfect for his family's active lifestyle, piling in camping gear, hiking backpacks and his mountain bike.
Casey is was born in Detroit, MI, grew up in Fort Worth, TX. He lives in Prescott, AZ with his wife and his daughter attends Prescott College. He is a member of the Mountain Air Racing Team in Prescott, an organization that Findlay Subaru Prescott proudly sponsors.