Spring is Springing! The Arizona Subaru Nation is Revving Their Engines for the Warm Weather
Spring is just about here which means, your Subaru is due for its Spring checkup to ensure all functions are working in top gear for another warm-weather season in Arizona.
Subaru Service Specials are in Full Bloom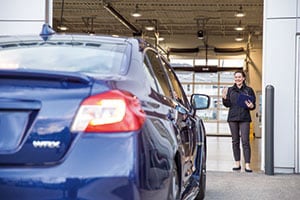 Subaru Spring Deals brings savings on quality Subaru service—just in time as another outdoor season in our Grand Canyon State takes off! Now is the time to take advantage of Findlay Subaru Prescott's Spring Service Event, happening now through April 15. Why? Because with a new season upon us it is the perfect time to make sure your Subaru vehicle is working in tip-top shape and routine maintenance can also extend the life of your Subaru.
Subaru Service Schedules Designed to Keep your Subaru Enduring the Long Haul
Did you know that Subaru engineers specifically designed a Subaru Service Schedule, also known as Subaru Service Intervals, based on time you had the car or the amount of mileage that's been racked up. This is to help Subaru owners with keeping tabs on the health of their vehicle. The maintenance schedule can be found in the owner's manual that comes in the vehicle's glove box.
For instance, The Subaru 30000 mile service schedule is a complete top-to-bottom inspection with replacement of key components of the vehicle to sustain its longevity, including engine oil, filter and drain plug washer, replacing front and rear differential fluid, brake fluid and air filters. Performance checks are also completed.
There is also a 60000 mile service schedule which provides the car with a little more love. Spark plugs get replaced, premium motor oil and fuel additive are integrated into the vehicle, as well as a running a thorough diagnostic scan to ensure all departments of the vehicle are functioning as expected.
Why Do You Need A Maintenance Check on Your Subaru With the Change of Seasons?
Great Question.
Each season brings its own display of elements. This past winter season brought a little more snow than most may have expected.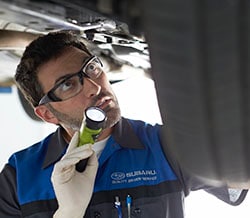 In some areas in Prescott there was some upheaval to the roadways due to either extreme temperature shifts, plowing destruction and/or salt erosion. These variables make the roads more vulnerable to potholes and being uneven. Driving on these poor conditions can cause the vehicle to fall out of alignment and have a negative impact on the suspension.
Road salt can deteriorate the metal parts of the vehicle with the formation of iron oxide. When rust starts to form on a car, plus the added salt and water means accelerated deterioration.
The anti-lock brake system is applied more often when conditions are slippery and unpredictable. More use of the brake system causes more wear on the brake pads.
Scraping the windshield wipers over an icy windshield can cause the blades to tear and become less effective to clear water and other obstructions.
These are a couple of examples that your Subaru is subject too during the winter months and that is why your favorite Subaru dealership Prescott AZ is holding this very timely Spring Service Event. Before the warm weather sets in full swing, it is recommended to get a detailed maintenance check on your Subaru from the reliable Subaru service you expect at Findlay Subaru Prescott.
Here's What You Can Expect with Your Spring Maintenance at Prescott's Subaru Car Service Center
Preventative maintenance is highly advised on any vehicle. This helps to keep your automobile running smoothly while preventing costly repairs down the road. After the weather Prescott experienced for the 2018-2019 winter season, it is highly recommended to check the following:
Alignment and Suspension Check
Often a tell-tale sign that something is out of whack is if your car starts to pull to one side, creating more effort for steering. Don't ignore your car's plea for help. A car out of alignment means uneven tire wear and decreased gas mileage, adding up to more money out of pocket. Findlay Subaru Prescott provides premier Subaru service with a full inspection of the suspension system and steering components to ensure factory specifications.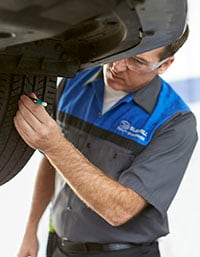 Tire Tread
With a rainy Spring season, as well as monsoon season on the horizon, low tread can contribute to the squirrely factor of hydroplaning on wet roads— a catch your breath moment no one enjoys. Stay ahead of the wet weather by having a qualified Subaru technician perform a detailed tire tread inspection. The tire inspection also includes checking and adjusting tire pressure and rotating the tires to ensure even tire wear to extend the life of the tires.
Brake System Check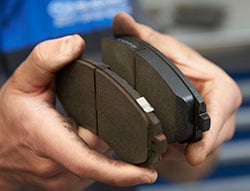 A rule of thumb is to have your vehicle's brake system checked with every oil change. The brakes in your Subaru is not an area you want to ignore or forget to check. Metal on metal braking is not a pleasant experience when a car pulls out in front of you. Subaru specializes in and makes safety in their vehicles top priority, hence leading the way in the Top Safety Pick+ awards for 2019.
You can trust that Subaru's service center also makes it a priority to always check your brakes with every maintenance service. The emergency brake will also receive attention to make sure it is in good working order as well so you can totally trust all braking mechanisms.
Lights
Your Subaru service tech will also check all the lights in the interior and exterior of your Subaru to ensure proper illumination and that all light bulbs are in good working order.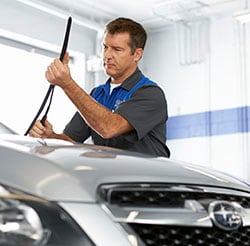 Wiper Blades
Ever leave the wiper blades on from the night before to and start your car in the morning and they try to move a foot of heavy wet snow? Wiper blades are not intended to lift heavy weight from the windshield, only to clear rain, windshield washer fluid and other grime from the full panel view. But accidents happen and damage to the bade, the arm and the motor are possible when put under heavy pressure.
There are a lot of signs it's time for a new set of wipers, including streaking, an abrasive sound as the windshield wipers go across the windshield, or visible damage to the blades or the arms themselves. Give yourself a clear view every wipe with new wiper blades.
Fluid Levels
Subaru Prescott's quality Subaru service performs a complete check of all the vehicle's fluid levels to ensure your vehicle runs in top performance.

Fluid Level Inspection, checking and topping off:
Engine Oil

Your car relies on the oil to keep the engine lubricated and working smoothly. Low oil can create friction in the engine causing it to overheat and not function.

Coolant

The engine needs to stay at a constant temperature to keep from getting too hot and not working properly. Coolant will keep your engine at a safe temperature for a more reliable ride.

Power Steering Fluid

A smooth, easy to maneuver steering wheel makes for a more enjoyable driving experience that requires less muscle strength, relying more on the car responding to your intended direction when you intend to go there.

Brake Fluid

Low brake fluid can make braking more challenging and less predictable. Brake fluid pressurizes the brakes to stop when you want to stop.

Windshield Washer Fluid

A clear and unobstructed view of the road ahead is provided with the aid of windshield washer fluid which helps to break down grime, removing film, splattered bugs and others splatterings that land on the windshield.
Battery Quality Check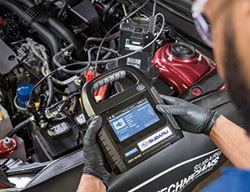 As the temperature starts to rise, heat can quickly drain poor quality batteries. Now is the best time to check the quality of your Subaru's battery and charging system. Battery service includes cleaning the terminals, installing anti-corrosion pads and checking the condition of the battery.
Keep in mind, a lot of factors affect the lifespan of a vehicle's battery such as weather and driving habits. High temperatures and humidity will drain the battery faster. Also, driving multiple short trips, starting the car multiple times and driving less than 20 minutes uses the battery power without giving the alternator enough time to recharge it all the way.
Here are some signs that will give you a heads up before a Subaru service tech at the Subaru Service Center recommends a battery replacement:
Slow to Start
If you notice your car's engine take a little longer to turnover, it may be due to a weak battery
Illuminated Check Engine Light
Your Subaru may be telling you that your battery power is getting low. This is an important light that can indicate many things. Stop by the service center for a diagnostic reading to find out the reason your check engine light is on.
Battery Fluid Level is Low
Take a look under the hood to see where your battery fluid level is resting. The lead plates are the indicator, if the fluid falls below the plates then it's best to have your battery serviced.
Swelling Battery Case
Arizona's extreme high heat, especially if taking trips to the Valley, exposes your Subaru to high temperatures that can drain the battery's life and cause the case to expand under pressure.
Battery Corrosion
If you notice there is corrosion around the negative and positive cable connections, then your battery sprung a leak. The corrosion can be cleaned off, but the lifespan probably decreased. To be safe, have the Subaru Service team take a looksee to see how much life is left in the battery.
Just Plain Old
Car batteries have an average lifespan of three to five years in ideal conditions. Arizona is considered an extreme environment, resulting in reduced battery lifespans. Best practice—when the battery is installed write the date of installation. At the three-year mark make a note to get the battery inspected each year to avoid any surprise failed starts.
Inspect Proper Functioning of Heating, Cooling and Defroster Systems
The heating, cooling and the front defroster systems all rely on the same blower motor, fan and venting structure. Heating and cooling provide comfort for the vehicle's passengers, the defrost system clears the front and back windshields of fog and speeds up the melting process of ice and snow.
On the back windshield are electrical wires that heat up to dry moisture from ice, snow or fog, clearing the visibility. The front defroster relies on air that passes the heater core to produce dry air after it has been sent through the air conditioner's evaporator. The hot dry air is then pushed through the vent directed at the windshield to clear the view.
Not working properly? This could be due to a variety of factors that your Subaru service tech will diagnose and repair:
Blocked fresh air intake – the air is brought in from the outside, dirty air filters can block the intake
Clogged vents preventing air to get to the windshield
Low anti-freeze, which is required to heat the air
Broken thermostat – this functions to regulate the temperature of the engine. Once the engine is warm anti-freeze circulates to cool the engine. If the thermostat remains open then the vehicle never warms up, thus not producing hot air to defrost.
Heater core malfunction – the life of the heating and cooling system, with out the heater core, there is no heat
Blower isn't working – resulting in no air being blown out of the vents
Inspect and Replace Filters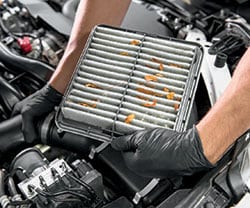 The Air Filter's purpose is to protect your Subaru's engine from debris, dirt and other contaminants. A dirty or clogged engine does not run as smoothly or efficiently.
The Cabin Filter was implemented for the protection of the health of the passengers by preventing dust, pollen, dirt and other pollutants from entering your vehicle's cabin by way of air vents when the A/C or heat is turned on.
Qualified, Highly Trained and Only the Best Subaru Service Near Me is at Findlay Subaru Prescott
Your Subaru is not like any other vehicle on the road. No, your Subaru has a totally unique engine construction designed by engineers specifically for Subaru vehicle models, known as the BOXER engine. Because this engine is designed like no other, Subaru service techs are required to undergo factory training to get certified and qualified to work on your beloved Subaru.
Subaru is an evolving manufacturer, always striving to excel and provide the best in performance, handling, safety, design, comfort, efficiency, you name it—are techs go through an annual training to stay up-to-date with current model changes. Rest assured that the Subaru Service Techs at your Subaru dealership Prescott AZ possess the specific skills to provide ultimate quality and reliable Subaru service.
In-house Genuine Subaru Parts
What's great about the Subaru Prescott Service Center is that it's kept fully stocked with Subaru genuine parts, meaning if your vehicle needs a repair or replacement, the parts are in the shop for faster in-and-out service. The less time in the shop, the faster you get to your next adventure.
Premier Subaru Service Brought to You by Subaru Prescott AZ
Findlay Subaru Prescott is committed to serving their customers with the utmost reliable Subaru service. The Subaru Nation consists of driven individuals who have much to do with a life to live. Catering its service to this particular culture, this Subaru dealership service center strives to provide fast, meticulous and precise care of their vehicles. Drivers of any vehicle are welcomed to bring their vehicle into the service center to get the best care and maintenance from certified service technicians, with convenient Subaru Service Center hours. Subaru cares for the safety of all drivers and passengers alike and are happy to provide standout service, so you and your vehicle can enjoy a long ride together.
What Subaru is All About, Serving You!
Subaru Prescott is an Arizona Subaru dealer steadfast to give to its customers and our community. Passionate for improving the world their customers live in, this Subaru dealership has its customers, their care and their car's service rooted to the core. Driven to serve and provide top-notch customer care, Findlay Subaru Prescott is equipped with a professional, courteous staff who go above and beyond. The Subaru dealership offers new Subaru cars for sale or lease, as well as used Subarus and other makes and models.