Northern Arizona Subaru dealership sponsors the Prescott Kiwanis Club for Kids Auction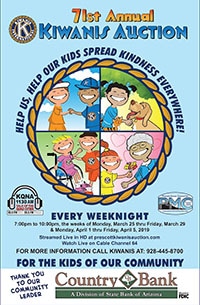 Every year the Prescott Kiwanis Club hosts a 10-day auction event to raise money to support the kids in the local community. This year Findlay Prescott Subaru is helping to sponsor the event to support the great cause this club represents.
Subaru Prescott Sponsors a Big Impact!
2019 marks the 71st year the Prescott Kiwanis Club has held this magnificent auction. Over the course of 10 days, there are 30 hours of auctioning off items with a value of $35 or more from local businesses and individuals. According to Linda Ballard, Secretary of the Prescott Kiwanis Club, there are a total of 2,000 items to get auctioned off, that is 200 items for every night of the auction!
Every year locals generously donate items knowing that all funds raised are going straight to the kids. "Businesses are waiting for our call, they say they know it's springtime when we start to make our rounds," Linda said.
Those who give a sponsoring donation also help to cover the expenses of putting on the auction as well, a huge relief for the organization.
Last year's auction brought in over $190K. The goal for the 2019 Kiwanis Club Auction for kids is to make it over $200K.
The auction will be every week night from 7:00pm – 10:00pm Monday, March 25 – Friday, March 29 and Monday, April 1 – Friday, April 5, 2019. The event will be televised live on cable channel 64 or streamed live at Prescott Kiwanis Auction. For more information, to volunteer or to donate please visit their website.
Linda has been secretary of the club since 2010. She said that when she bought a local company in Prescott in 2004, one of her clients took her out and told her about Kiwanis. She simply stated, "The draw was what Kiwanis does," meaning the kids are the ones who benefit and receive the investment.
A Big Event for a Big Cause
The Kiwanis Club is an international program, and the little hometown of Prescott is getting involved in such a big way. Other clubs in Northern Arizona also participate in gathering donations and hit the streets in their towns to spread the word about this important money raising event.
A look at the bigger picture
There is a total of 16,000 Kiwanis Clubs combined, adult and youth, worldwide across 70 nations. These clubs sponsor close to 150,000 service projects, raising over $107 million with over 5 million service hours.
The Prescott Kiwanis Club lists their [kiwanis.org]Signature Service Project as the Annual Kiwanis Auction.
Big Benefits for the Prescott Kid's in Need
The Prescott Kiwanis Club was established in 1924 and has over 70 active members today. The members must take part in one or more of five committees to help allocate the monies. With the available funds received through donations, and primarily the Annual Auction, each committee will review their respective requests and decide on how much money to allot to each need as appropriate.
The committees and their purpose include:
Child Services Committee – providing financial assistance to youth organizations in the Prescott area who have a goal of becoming self-sustaining, resulting in a larger and longer-lasting impact on more members of the youth as possible.
Community Services Committee – funds will be allocated to organizations in the Prescott based on having a large influence on a wide age and socioeconomic group range. The first priority attends to the essential life needs of individuals, and the second priority is to respond to the needs of the community enriching overall quality of life.
Family Services Committee – families in need will receive financial assistance to support requests such as childcare, car repair, transportation, medical needs or other essentials.
Major Emphasis – this committee takes on projects that have a larger scope with a broad impact on the youth community. Projects are developed to be capital in nature, benefits the youth, and may only be a one-time event that will bring lasting recognition to Kiwanis in the community and a big financial benefit for the community as well.
Scholarship Committee – Identify and reward Prescott-area students who participate in qualifying activities such as community involvement, show good work ethic, demonstrate leadership skills and apply themselves to learning. The goal of this committee is to support students in their higher education and vocational trainings to prepare for a bright and rewarding future.
Carl Mueller, past president and club members since 2001 explains that there is a monthly disbursement committee meeting to review each request and to evaluate to make sure they meet the required guidelines.
Carl listed some of the groups and projects they have funded previously, these include:
Autistic Kids Advocacy Group in Chino Valley
The Boys and Girls Club
March of Dimes
The Launch Pad
Boys Scouts & Girls Scouts
Blankets for Kids
CASA for Kids
Kiddie Parade every 4th of July
Kiwanis funded the maintenance of the YMCA pool and their gymnastics floor and foam pit, as well as a new floor in the basketball gymnasium for the armory.
The scholarship committee aims to award 20-25 senior high school students $1000 in scholarships each year.
Invest in paying major bills for those in need
Carl also mentioned the funding of Kayla's Hands Playground, located near Pioneer Park in Prescott. Kayla's Hands Playground was a memorial park built in Kayla Mueller's honor. Kayla was Carl's daughter, a passionate and committed humanitarian who was kidnapped and killed by ISIS while providing relief efforts in Syria.
"This is just a few from a very long list," Carl said.
The Prescott Kiwanis Club is always actively seeking new members and volunteers to partake in such a rewarding experience and venture. They meet on Thursdays for lunch at the Hotel St. Michael in downtown Prescott. For more information call 928-445-8700.
It's All in the Network of the Community
It happened at a networking event the husband of a Kiwanis member was attending and bumped into the General Manager of the Prescott Subaru dealership, Dave "Mac" Macfarlane, which generated a phone call with Carl. Findlay Prescott Subaru generously donated at the auctioneer level sponsorship, which will help to cover the expenses of the auction or other general funds, with left over going into the community funding projects.
Raising up leaders through volunteer work
Subaru and Kiwanis both believe strongly in the value of volunteerism and giving time, energy and resources to benefit the community. The benefits are not only for the those being served, but those doing the serving as well.
Kiwanis is a global organization, recognized worldwide for its efforts in making positive impact in the lives of children. Made up of a community volunteers, their focus has been on giving food to the hungry, helping the homeless, caring for the sick and being a mentor for the disadvantaged.
Kiwanis provides five different clubs for youth and young adults to participate in to encourage their giving to the community. The programs are twofold – serving the community as well as instilling valuable skills, trainings and experiences into the lives of these young budding leaders. Focusing on leadership skills and personal growth and development while making the life of someone else better.
Kiwanis Kids for elementary school children
Builders Club for middle school adolescents
Key Club for high school teenagers
Circle K for college young adults
Aktion Club for adults with disabilities
This car manufacture models true leadership and involvement in its communities
In 1984 the Subaru of America Foundation was founded motivated by a mission to give back to the communities where they work and live. The emphasis being on kids and young adults, financial assistance has been given in over $9 million by way of grants, scholarships and donations. Subaru has a firm belief in investing into the next generation of leaders, just as the corporation believes in the next generation of automobiles.
As a branch of the Subaru corporation, Findlay Subaru Prescott, along with the Findlay Auto Group, follows the lead of the headship to continue to give. The Subaru dealer in Prescott continually seeks opportunity after opportunity to be a benefit to the Prescott community.
The Subaru of America Foundation is constantly striving to give back, reaching over a million dollars in the last year to over 80 organizations across the nation. Investing in the next generation means focusing on organizations who support educational programs, employment trainings and work readiness curriculums. Subaru is proud to call this a "corporate responsibility" to invest in their local communities within the United States as part of their Love Promise campaign.
Subaru reported 165 volunteer events with over 74,000 volunteer hours for 120 organizations in the year 2018.
Northern Arizona's #1 Subaru Dealership Sharing the Love with the Prescott Community
Findlay Subaru Prescott is an Arizona Subaru dealer committed to its customers and their community. Passionate for improving the world their customers live in, this Subaru dealership has its customers, their satisfaction, their safety and their car's service rooted to the core. Driven to serve and provide top-notch customer care, Findlay Subaru Prescott is equipped with a professional, courteous staff who go above and beyond for their customers and their community. The Subaru dealership offers new Subaru cars for sale or lease, as well as used Subarus and other makes and models. We invite any driver to bring their vehicle onto the lot and into our service center to get the best care and maintenance from our certified service technicians. We care for the safety of all drivers and passengers alike and are happy to provide standout service, so you and your vehicle can enjoy a long ride together.