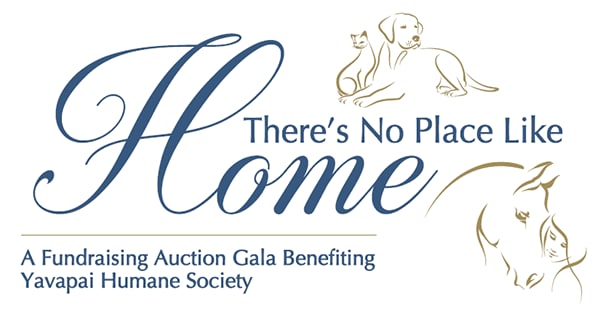 This may be one of the most sought-after community events in town as this year's Yavapai Humane Society's, "There's No Place Like Home" Gala, has sold out!
Sponsored by Findlay Subaru Prescott, the yearly Gala hosted by the Yavapai Humane Society (YHS) is an effort to raise awareness and funds for all the ventures that this organization is a part of.
Chatting with Kristen Kerns, Director of Donor Development at the YHS, she shared just a few of the many services and offerings that are available and a part of this animal shelter, such as:
A Low-Cost Spay and Neuter Clinic

The YHS believes it is incredibly important to spay and neuter your pets considering there is quite a population that are already in need of a home. Controlling the amount of dogs and cats that are littered will help keep shelters from becoming too overloaded with pets without homes, and it also saves their lives.
Having an unexpected pregnancy with a pet dog or cat may leave the owner stranded for funds and resources to properly care for the animals, causing some owners to abandon these animals, drop off at a local shelter who may or may not be anti-kill, or keep them but not properly care for their nutrition, exercise or medical needs. This procedure also benefits the pets by preventing some types of cancers and making them less likely to run away or be aggressive when in heat.
Making this procedure low cost, and even free or drastically reduced with The Big Fix Program for eligible persons, was purposed to invite more in the area to become responsible pet owners by keeping the dog and cat population more manageable.
An Affordable Vaccine Clinic
Vaccinating your pet is not only a health defense for your furry friend, it can also protect you and others from diseases that get passed from animal to humans, such as rabies.
The YHS makes getting these important, life-saving and protecting vaccines very affordable for pet owners.
The Second Chance Medical Program
Getting the news from your veterinarian that your pet needs to undergo an expensive medical procedure can be devastating, for you, the pet and your wallet. In the event a pet owner does not have the resources to cover the procedure performed by the vet, they may get referred to the YHS to receive the care that's needed.
The YHS Second Chance Medical Program was created to give pet owners the opportunity to get the medical care for their pet if unable to afford the rates of their veterinarian and if they qualify according to the Federal Poverty Level guide.
The Safety Net Program
The desire of the YHS is to care for as many pets as possible for any reason that may transpire. The Safety Net program provides a temporary home for pets as their owners are experiencing a hardship that makes it impossible to give them proper care. A hardship might be a stay in the hospital, an eviction, or another reason one must vacate their home. In the event of a crisis the YHS wants to provide temporary shelter for pets so they continue to get the care their need.
These are only a few of more services and programs that the YHS provides for pet owners in the Yavapai County.
Charitable Giving Makes a Big Impact
Now, in order to fund these services, the non-profit organization relies on the funds raised through special events such as the "There's No Place Like Home" Gala and the Animal Walk held this year in October.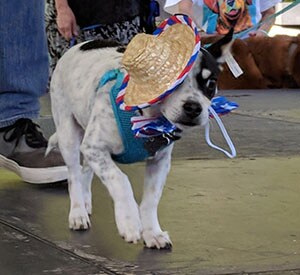 A new event debuting July 14 of this year will be the "Paws on the Runway" fashion and dog show. This event will be held at the YHS Thrift Store, another avenue where you can help support the animal shelter. Geared toward local influential community members to see the fashionable and high-quality apparel available at the thrift store as well as the adoptable dogs. Kern says, "it is the only fashion show where you can take home a model!"
The YHS also relies on donations through corporate sponsorships, grants, and personal donations.
Subaru Prescott Gives the Dogs Something to Wag About
Findlay Subaru Prescott has made this year's Gala possible by sponsoring the event.
Christian Robinson, Director of Internet Sales & Marketing of Findlay Subaru Prescott explained that "the Gala was an event that the Yavapai Humane Society came up with to really draw attention to the shelter. It was a perfect fit for Findlay Subaru Prescott and the Yavapai Humane Society to be in front of prominent members of the community for such a great cause."
For an automaker that also has a love for animal safety and health, and with its partnership with the ASPCA, it was a no brainer to join with the local non-profit organization to Share the Love.
"Being that Subaru and dogs go hand-in-hand [read more about this below], it only made sense to work with the Yavapai Humane Society on some initiatives we have worked on since Findlay Subaru Prescott has been around," Robinson said. "We have had a great time partnering them, and even sent them back to the shelter with 0 dogs after an adoption event at the dealership once."
The YHS agrees with the Subaru Prescott dealership, stating the importance of partnerships with corporate entities which help to fund events to help raise funds and awareness, as well as supporting the many services they offer.
"This is an amazing sponsorship from Findlay Subaru Prescott. We need corporate sponsorships in order to put on these events as they cover a lot of the expenses involved," said Kern, "Subaru has always had a passion for animals. It's a natural partnership and a valuable relationship."
Kern expressed that this year the Gala has hit a new milestone as it has sold out of the 150 available seats. Kern noted that this is event is highly desirable, and here's why…
Guests will be Wined and Dined with A Wine-Pairing Experience with Delicious Tastings
Located at The Event Spot in Prescott Valley, the beginning of the evening will start with a wine and bite-sized tasting outside where guests will peruse information stations. These stations will discuss all of the elements of the YHS, as some were mentioned previously in this article.
Stations are to showcase and create awareness of everything the YHS does and offers, even more than the adoption services, such as the YHS Thrift Store. Through donations of goods and clothing, the thrift store resells gently-used items, in turn, all proceeds from sales go to support the animals.
The YHS is also trying to increase awareness around their Equine Center located in Chino Valley. Yes, they even have horses!!!
"I am constantly impressed by the everyday operations and everything the Yavapai Humane Society does and has to offer," said Kern.
There will also be animal ambassador stations with adoptable pets for a meet and greet, as well as to meet alumni pets who were once at the shelter and have been placed in a happy, loving family.
And many other stations will be available for all guests to grasp the full array of all the YHS does.
The event will continue inside with a multi-course meal and speakers to discuss the ongoing affairs, initiatives and what's to come for the organization, with of course more wine and dessert!
As the Wine is Paired with Food, Subaru is Paired with Dogs
Subaru is well-known in the auto industry as the vehicle for dog owners. Back in 2007, as a marketing initiative, Subaru owners were surveyed as to why they were so loyal to the car brand. The majority of the responses came back as simply, "we love the car!", hence, the "Share the Love" campaign was born!
The idea behind Share the Love is to get into the passions that drive their customers and to give back to the charitable organizations that they care about.
As the venture continued to get to know their customers better, the automaker discovered that Subaru owners also love their pets, 67% of them in fact, and half of those being dogs. Next up, a partnership with the ASPCA, an organization to prevent the cruelty of animals. Subaru has been in partnership with the organization since 2008 and has donated just under $14 million to the ASPCA, and "helped to support nearly 1,000 pet adoption events, resulting in more than 11,500 adoptions to date."
Subaru, Designed for the Dog Life
Subaru has been designing its vehicles to fit the very needs, safety, durability and comfort of their customers. The automaker knows their customers are active, on-the-go, adventurous, and carry a lot of gear, including family and pets.
The Subaru Outback, Forester, Crosstrek, and Ascent have all been touted as some of the greatest vehicles made for dog owners.
So, what makes Subaru so great for you and the pooch?
Subaru model vehicles are designed for easy use and access whether for human or for pets, but for the pups specifically the features are:
Convenient height for ease of jumping in and out or to load a dog crate
Plenty of cargo room for your dog to be loose, or for a dog crate and other toys for the adventure
Durable seats to protect from tears and stains
Wide-opening doors that open to 90-degrees for easy maneuver of dog and cargo
Easy fold-down flat rear seats for plenty of space for pup, or two!
Subarus are even being designed with your pup's safety in mind, ensuring that if a pup or a crate is in the back, your pet will have more protection in case of an accident
And of course, plenty of ground clearance and all-wheel drive to get you to your pup's favorite area to run free, play fetch, or to get his paws wet at the swimming hole.
Why Do Dogs Love Subarus So Much?
We know dogs so well; we know that they thoroughly and enjoy and appreciate the following features that come with Subaru cars:
Dogs are a big fan of open windows, letting the wind run through their fur and wagging tongue. They love the fresh air and sun, and what's more perfect than the Subaru Crosstrek sunroof, or, for the spoiled pup, the Forester's panoramic sunroof. An airy cabin makes for an enjoyable ride for any pooch.
Dog's love plenty of space to pace back and forth from window to window to make sure they can see everything that is going on and what other dogs may be heading to the park.
They really appreciate all the storage that Subaru models have to offer, especially for a bucket of balls, chew toys, treats, water bowl, leash, jacket in case she gets cold, and yes, the doggie pooh bags.
Plus, pups love it when you bring your gear too. Load up the mountain bike or the fishing poles, dog owners and their dogs do some great bonding over fun activities.
Older and smaller dogs love the ease of in and out with the low ride height, it makes it easier for their owners too if they need to be lifted in and out.
And after a day in the Arizona sun, dogs love the rear climate control option. Set that one on high and the pup will be down just chilling for the ride home.
Need to see more, meet the Barkleys! They are a Subaru-driving family of golden retrievers who want to share more with you about their adventures in their favorite Subaru models!!
Subaru Prescott AZ is the Place to Be with Your Dog, and the Yavapai Humane Society is Your Place to Get One!
Findlay Subaru Prescott is proud to partner with the YHS and to help so many cats, dogs, and horses too, to find shelter, safety, healthcare, and loving homes.
If you're thinking about adopting a dog or have a dog already, be the best dog parent ever and treat your pooch their favorite vehicle – test drive a new or used Subaru Ascent, Outback, Crosstrek, and Forester and see what your pup has to say!