The original Subaru Outback first made an appearance on the market in the mid-1990s, emerging as one of the very first wagon-based crossovers. The vehicle available at this time was a variant of the Legacy wagon, and it quickly became the automaker's answer to the increasing demand for reliable, safe and efficient SUVs.
Today's Outback has several noticeable differences from the original Legacy, including raised suspension, providing additional ground clearance. Also, the vehicle incorporates additional body cladding to provide a more "rugged" appearance.
By the fifth-generation of the Outback, which was presented in 2010, the vehicle began to win awards, including the 2010 SUV of the Year Award from Motor Trend and the Most Versatile Car award.
There's no question the Outback has had a pretty interesting history; however, what about the current model? If you are interested in purchasing an Outback, it's best to get to know more about it.
Find a thorough and comprehensive Subaru Outback review here. With this information, you can make an informed decision regarding if this vehicle is right for you.
An Overview of the Subaru Outback for 2019
While Subaru has referred to it as an SUV, the Outback is actually a station wagon with pretty impressive ground clearance. Also, the vehicle has the ability to be an all-weather companion and cargo hauler, which makes it appealing for any buyer with an adventurer's spirit.
With the latest model of the Outback, safety has taken the driver's seat. The new Outback also offers a suite of driver-assistance features, with all-wheel drive being a standard hallmark of this brand.
If you are looking for more than just a vehicle, but something that is going to help support your active lifestyle, then the 2019 Subaru Outback is definitely a vehicle you want to consider. It's been designed from the ground up with active, on-the-go people in mind.
Keep reading to learn more about the specifics of this year's Outback model.
All New for the 2019 Subaru Outback
The well-known and popular EyeSight Driver Assist Technology package, which was an option in previous models, is now standard for the 2019 Outback. This package includes several safety and driving assist features, including automatic high-beam headlamps, lane-departure warning, lane-keeping assist, and adaptive cruise control.


Each of the features offered by the Eyesight Driver Assist Technology package is designed to ensure driver and passenger safety.
The other changes are somewhat limited, and include the following:
2 USB ports in the front
A new standard 5-inch LCD readout in the gauge cluster
Overhead light over the center console
Also, the Limited and Premium models are now being offered with HomeLink, a compass, and an auto-dimming rear-view mirror as standard features.
Performance
The 2019 Outback is available with two engine options. The base option offers 175 horsepower and a 2.5-liter, 4-cylinder engine. If you opt to purchase one of the top two trim levels of the Outback (the Limited or Premium), you can choose the more powerful 256 horsepower, 3.6-liter, 6-cylinder engine.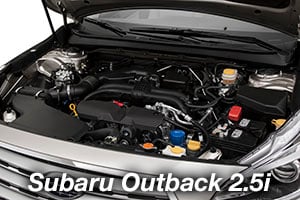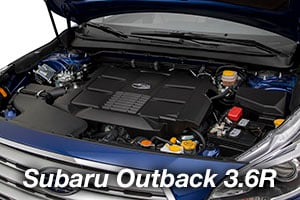 Both of these engines are horizontally opposed, which is a design used by Porsche for their 911 and 718 Boxster.
Both engine options send power through the continuously variable automatic transmission, CVT, featuring steering-wheel-mounted paddle shifters, allowing for manual control. The standard AWD system includes Active Torque Vectoring, helping with stability in corners taken at high speeds, as well as X-Mode, providing traction for lower speeds. All the trims of the 2019 Outback have been rated to tow 2,700 pounds.
The handling and ride offered by the Outback are good compared to other station wagons and this vehicle is set up in a way that makes it comfortable enough for daily driving.
Exterior Features
At the top of the vehicle, you find an integrated roof rack, featuring swinging crossbars that are able to be hidden when not being used. For the Premium and Limited trims, you also get large fog lights, which are found in the heavy front cladding. Another feature for these top trims is steering-responsive headlights.
To complement the outdoorsy feel of the Outback, there's a stylish, yet rugged, lower body cladding and coordinating wheels. Even the doorsills encourage you to "get out and get active." They're designed to serve as a step, allowing you to easily access the roof for strapping on your skis, canoe, bike, or anything else.
Interior Features
Both versatile and functional, the interior space in the Outback has been designed with a high standard in mind. The soft-touch plastic is present on the dash, along with the door panel. Also, the armrests in the center are plenty cushy enough for extended periods of rest.
Compared to some of the top rivals, such as the Volkswagen Golf Alltrack and the A4 Allroad, the 2019 Outback has set the bar when it comes to interior space. Even the rear legroom is enough for your lankiest friends.
Infotainment
The base model of the 2019 Subaru Outback, the 2.5i, is sold standard with a 6.5-inch touchscreen infotainment system. It also features both Android Auto and Apple CarPlay.
All of the other models come with a slightly larger setup, at 8.0-inches. The Starlink interface present responds quickly to given touch commands, and the menu is set up in an easy-to-understand manner. There are several touch-sensitive buttons around the screen, which helps to simplify using the infotainment system even further.
An optional for all trims is navigation featuring real-time weather and traffic updates. However, the onboard Wi-Fi hotspot isn't available on any of the Outback models.
Driver Assistance and Safety Features
NHTSA has given the Subaru Outback a five-star rating, and this is attributed to the comprehensive offering of driver-assistance features. These come standard, which puts it far ahead of the competition.
The key safety features included are:
Adaptive cruise control
Lane-keeping assist
Automated emergency braking
Each of these features is uniquely designed to help modern drivers remain safe, and prevent accidents, while on the road.
Cargo Space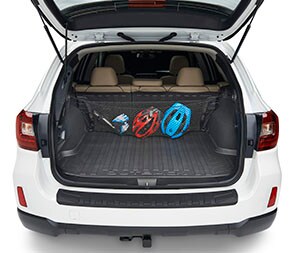 The storage space available with this model of the Outback is right on track with the other vehicles in this class. The majority of the vehicle's useful storage is located in the center console, and in a covered storage area close to your gearshift level.
You can also fit quite a bit of cargo behind the rear seat. For even more space, just fold the rear seats away, which virtually doubles the available stow space.
Fuel Economy
While the Outback's 4-cylinder engine may not provide all the acceleration power you expect, it definitely makes up for this in the provided fuel efficiency. Even though the 6-cylinder is a bit more of a gas-guzzler, it is still pretty efficient compared to other options.
If you are looking for a balance between performance and fuel economy, then the 2019 Subaru Outback may be just what you're searching for.
Overview of All Standard Equipment
While some of the standard options available on the 2019 Subaru Outback are mentioned above, here you can learn more about what comes standard and ensure you have a complete list.
There are four main trims of the Outback for this model year:
Base (2.5i)
Premium
Limited (2.5i and 3.6R)
Touring (2.5i and 3.6R)
Standard equipment for all trim models (even the least expensive) includes:
Android Auto and Apple CarPlay connectivity
EyeSight
CD Player
All-wheel drive with X-Mode
SiriusXM
Automatic transmission
5-inch touchscreen infotainment system offering Bluetooth connectivity
17-inch wheels
6-way manual driver's seat adjustment
Cruise control
Automatic headlights
However, if you step up to one of the more expensive trims, even just the Premium, you get a few more standard features. These include:
Four USB ports (2 in front and 2 in back)
8-inch touchscreen for the infotainment system
Heated front seats
Two additional speakers (for 6 in total)
Fog lights
10-way power driver's seat
Dual zone climate control
Those are the features you can expect to receive standard on your 2019 Subaru Outback. These are designed for comfort, aesthetics and safety.
Keep in mind, the higher trim level you choose, the more standard features that are offered. This makes it well worth the additional cost.
Optional Equipment Worth Mentioning
While this isn't going to provide a comprehensive overview of all the optional equipment offered by the 2019 Subaru Outback, it is a look at some of the options you can choose from. Some of the most popular, optional features available include:
High beam assist
Voice activated navigation system
Blind spot detection
Leather trim interior with faux wood
Cross traffic alert
Power liftgate with a programmable maximum height
Upgraded Harman/Kardon audio system
There are also several dealer-installed items to choose from, such as rack systems for specific items, to remote start, and more.
Behind the Wheel
Because this year's model of the Outback shares the same architecture of the Legacy sedan, it provides you with a car-like, stable ride. While you may think the additional height would add quite a bit of bounce and sway, that's not the case. In fact, thanks to the low placement of the boxer engine, the car's center of gravity has been reduced significantly.
If you opt for the 2.5-liter, 4-cylinder engine, you are going to have plenty of power to merge and pass with ease, and the standard CVT automatic ensures the power gets to where it's needed. If you are looking for something a bit more powerful, then opt for the 3.6R, 6-cylinder option.
Unlike the competition, the AWD system is always engaged, which is a feature that helps to tackle rough terrain. This is only enhanced by the X-Mode off-road system and 8.7 inches of ground clearance.
Is the 2019 Subaru Outback Right for You?
This is a question you have to consider carefully. Some of the reasons it may be a great option for you and your family is if you are searching for an affordable and safe, five-passenger vehicle that's both efficient and reliable. It also offers a large interior and impressive standard features.
However, if you are looking for a vehicle with third-row seating, the Outback isn't a good option. Also, this vehicle isn't described as being "athletic," so if you are a serious off-roader, or plan to do heavy towing, checking out another option may be best.
It's important to have a full picture of what the vehicle offers so you can make an educated decision regarding if it's the right option for you. With all the insight found here, you should be ready to make a purchase decision.

2019 Subaru Outback Review: Now You Know
If you were thinking about purchasing or even looking at this vehicle, then this 2019 Subaru Outback Review should help you make an educated decision if you want to move forward. Keep in mind though, it's always best to see a vehicle in person and get behind the wheel to really see what it has to offer.
This first-hand look at the Outback is going to remind you of everything great about the Subaru brand. If you are ready to test drive the latest model, or just need service for your Subaru vehicle, be sure to contact us. Our team is standing by to help you get a great vehicle and to keep it in great shape year after year.
Keep in mind, buying a new vehicle should be a fun experience. Our team is available to help ensure you get the service you deserve and a price you can afford. In addition to offering the Subaru Outback, we have a wide array of other makes and models in-stock for you to test drive and take home.