For the 2019 model year, Subaru redesigned the Forester using the Subaru Global Platform, and what a success that's been.
The new model registered a U.S. sales record of 13,318 units in January alone!
But what makes the new Subaru Forester such an American darling? More cargo and passenger space? Technology upgrades, perhaps? Or a slight bump in engine power? We'd like to think it's a combination of all.
But as an adventurous car lover with an active lifestyle, what you're really interested in is the safety and reliability of this car. That's not to say that powertrain capability, technology, and carriage space aren't important. It's just that outdoor usage requires a safe, dependable machine.
That brings us to the big question, are Subaru Forester's reliability and safety top notch?
To test the new model's reliability and safety, here's a Subaru Forester review of its new technology and design features, trim levels, and performance enhancements.
1. Performance
In terms of performance, this Subaru Forester is nothing short of spectacular:
Powertrain
All 2019 Subaru Forester trims come with a 2.5-liter, 4-cylinder engine that cranks out 182 horsepower - 12 more than the outgoing engine. Mated to a Continuously Variable Transmission, this is the only available powertrain for this SUV. All-wheel drive is standard in the 2019 Forester, as is in most Subaru models.
However, the previously offered turbo-charged engine is no longer available. So is the manual transmission, which was standard in prior models.
Gas Mileage
The 2019 Forester boasts an EPA-estimated 26mpg and 33mpg for city and highway driving respectively. These are impressive figures for its class and put the new Forester on par with the Chevy Equinox and Nissan Rogue.
The Forester's fuel economy gets even better when you consider that it's an all-wheel drive, a feat that further decreases fuel economy estimates.
Handling and Ride Quality
The 2019 Forester boasts comfortable handling. It feels grounded when in motion and exhibits minimum body leans during sharp turns. Passengers don't get disrupted when driving over rough pavement patches, and the lively steering adds agility when cornering.
All-wheel drive comes as a standard feature, which isn't common for its class. For comparison purposes, most rival brands only offer All-Wheel-Drive as a several-thousand-dollar add-on.
Last but not least, Subaru's SI-Drive allows two modes of throttle control and engine regulation. These include Intelligent and Sport. But, the X-Mode is also available and adds traction on some types of terrain. With that and the Forester's 8.7-inch ground clearance, this SUV delivers enough off-road capability to match your active lifestyle.
2. Safety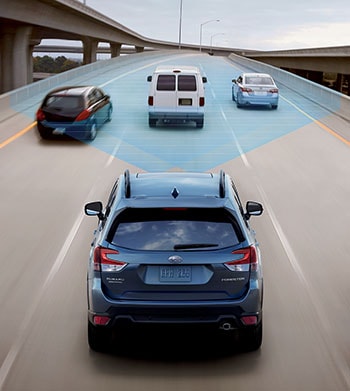 A 2019 forester review wouldn't be complete without an analysis of the SUV's safety features. The EyeSight suite provides a myriad of driver assist safety features and is standard in the 2019 Forester. Included in the suite are:
Automatic emergency braking

Lead vehicle take-alert
Lane keep assist
Adaptive cruise control
Lane departure and sway warning
Also included in the Eyesight suite is a lesser known feature named pre-collision throttle management system. It significantly reduces throttle response and alerts the driver to help prevent acceleration into objects ahead.
In addition to standard EyeSight suite, the 2019 Forester also comes with optional driver assist features. These include:
Blind-spot monitoring with lane switch assist

Reverse automatic braking
Rear-cross traffic alert
There's also the Starlink Safety Plus package, which comes with features such as:
SOS emergency alert

Roadside assistance
Stolen vehicle recovery
Automatic collision alert
Additionally, the Starlink Safety Plus suite has the ability to lock and/or unlock your car's doors, flash the lights, honk the horn, and most importantly, help you locate your car in case of theft.
Crash Test Rating
The 2019 Forester featured in IIHS' Top Safety Picks (TSPs).
With a number of 2019 Subaru models already TSP-accredited, the car manufacturer now leads the pack for its terms of safety.
The 2019 Forester had the highest "Good" rating from six crash tests. It also had the second highest "Acceptable" rating for adequate headlight illumination.
Better yet, the 2019 Forester got a five-star overall rating from the National Highway Traffic Administration. This perfect rating was a result of a five-star performance inside and front crash tests, and a four-star showing in rollover tests.
3. Interior Design
Let's review the interior according to the following factors:
Cargo Space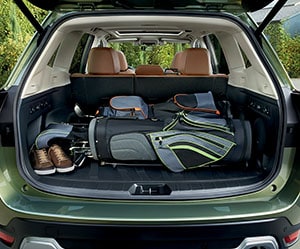 The newest Forester model comes with a maximum cargo space of 76.1 cubic feet—an increase of 1.4 cubic feet from the previous model. But to enjoy this cargo space, you'll need to fold the rear seats down.
The 2019 model year has also added 5.3 inches of opening width to the rear cargo space. The new Forester now boasts the widest rear cargo area in all Subaru Forester models.
Passenger Capacity
The two-row Forester can accommodate up to five passengers on standard cloth upholstery. Heated rear and front seats and leather upholstery are available, and so is a heated steering wheel wrapped in leather. The driver gets a 10-way power-adjustable seat, while passengers can enjoy 8-way power adjustability in their seats.
Thanks to the lengthened wheelbase, there's more leg in the 2019 forester than previous models. It boasts 39.4 inches of legroom, 1.4 inches more than the 2018 model.
Seats
The rear outboard car seats come with two sets of LATCH connectors. There's also an extra rear middle seat tether anchor. Such a setup has earned the 2019 forester a "Good+" rating from the IIHS.
For extra convenience, the seat memory function in the 2019 Forester is connected to the door mirrors' position. Also, the mirrors have been designed to automatically tilt down when the driver switches to Reverse. This makes backing up safer by increasing curb visibility.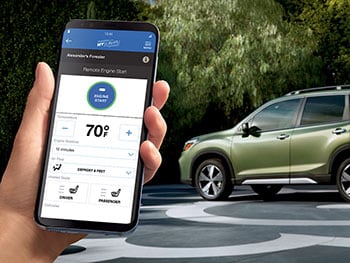 Air Conditioning
The latest Forester model comes with a dual-air conditioning system. The passenger-synched A/C system offers a nice cabin atmosphere to all occupied seats. Quite impressively, there are four operation modes to choose from. This ensures that everyone's temperature preferences are catered for. If you opt for the remote start package in Starlink, you can also get the A/C started, before you even open the car door.
There's also a rear ventilation system for rear passengers' comfort. This comes in the form of vent grilles positioned behind the center console box.
In-Cabin Technology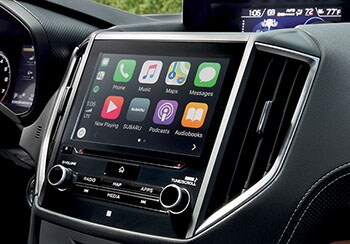 The 2019 forester sports the StarLink infotainment system. The standard features included in the system are:
6.5-touch screen

HD Radio
Two USB ports
Bluetooth
Smartphone integration
Satellite Radio
Apple CarPlay
Four-speaker audio system
In terms of functionality, the infotainment system is highly responsive, and the display has high-quality graphics. Also, the adequately sized knobs and buttons for controlling audio functions and cabin climate are easily accessible and clearly marked.
4. Pricing
In terms of pricing, the Forester is more expensive than the Crosstrek but cheaper than the 3-row Ascent and the Outback models.
With the market pricing of our new and used Subaru SUVs ever-changing, it's a bit tricky to name a specific price. We advise you to keep in touch with Findlay Subaru Prescott's Market-Based Pricing for any price changes.
5. Trim Levels
The new Forester comes in five trim levels, each with varying performance, design and technology features.
Following are Subaru Forester reviews for each trim level:
Base Trim
In the base trim, the EyeSight suite comes as a standard feature. Other features that are standard include:
Automatic LED headlights

SI-Drive
Automatic start
Apple CarPlay
Rear-View Camera / Backup Camera
SiriusXM Satellite radio
Android Auto
6.5-inch infotainment system
Automatic climate control
Premium Trim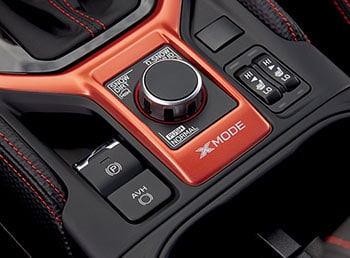 With this trim, you get the following additional features:
17-inch wheels

Reclining rear seats
Rear A/C vents
Starlink Safety package
Leather-coated steering wheel
10-way power driver's seat
Panoramic Moonroof
X-Mode drive
Roof rails
Rear spoiler
Sports Trim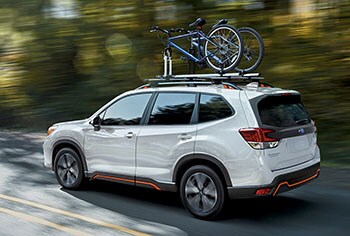 Sport-exclusive features include:
18-inch alloy wheels

Sport Sharp SI-Drive mode
LED fog headlights
Gloss orange and black accents
Fabric interior upholstery
Dual-function X-Mode
Push-button start
Limited Trim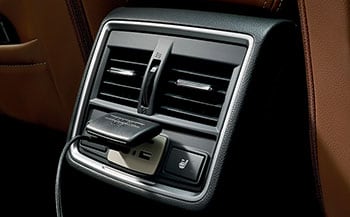 The exclusive features included in the Limited trim level include:
Leather seats

8-inch infotainment display
Blind spot monitoring with lane switch assist and rear-cross traffic alert
Power liftgate
Auto climate control
Steering-responsive adaptive LED headlights featuring high-beam assist
Chrome grille accents
In addition to the above standard features, three extra features are available as optional upgrades. These include a 9-speaker audio system, reverse automatic braking and a navigation system.
Touring Trim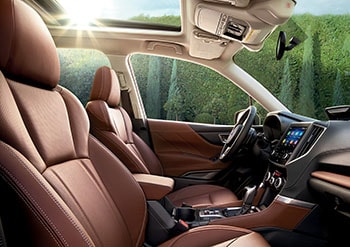 The top trim of the 2019 Subaru Forester features:
18-inch wheels

Reverse automatic braking
Navigation system
Heated steering and seats
Harman Kardon audio system
Side mirror caps
Folding seats
Saddle Brown interior leather interior
Bottom Line on Subaru Forester's Reliability
With a multitude of design, performance, and safety features in each trim level, the 2019 Subaru Forester's Reliability cannot be questioned.
So, if you were undecided about this SUV, this 2019 Subaru Forester review should clear things up and make your decision easier.
Whether you decide to buy the latest Forester or any other model, you'll find an option that suits your lifestyle in our Subaru collection.