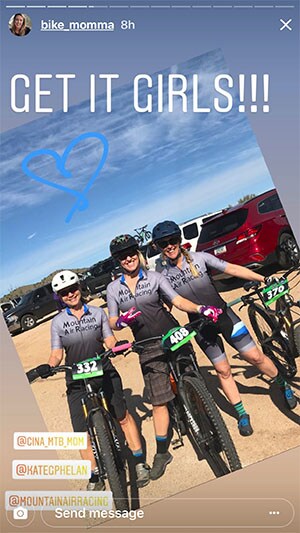 As the 2019 mountain bike racing season commences, Mountain Air Racing joins its first season as an established MBAA racing team, while sporting the Findlay Subaru Prescott logo on the right sleeve of their jersey.
November was a month of firsts for both the Prescott Subaru dealers of Arizona and Mountain Air Racing. This month marked the partnership between Findlay Subaru Prescott and Soul Ride, the local pro bike shop who conceived Mountain Air Racing. Soul Ride generously donated a 27" Salsa mountain bike, valued at $1,700, for Findlay Subaru Prescott's grand opening in November 2018, which coincided with the same month's announcement of the new MBAA mountain bike racing team.
Cina Mcconaughy, co-founder of Soul Ride and Mountain Air Racing, is grateful for Findlay Subaru and their seven other sponsors. "This helps provide food for the races, hydration with electrolytes, and a shelter—a commercial grade tent—a place for people to hang out as a community during the race."
With Findlay Subaru Prescott also new to the neighborhood, the Subaru dealership benefits from the exposure it receives from having their logo on the jerseys of the 90-person team.
Director of Internet Sales & Marketing for the Prescott Subaru dealership, Christian Robinson, further detailed that "We want to expand our reach with a local group." Sponsoring Mountain Air Racing is right in line with what the Subaru brand and lifestyle supports, "helping people to get out in nature and move, improve their fitness and create comradery," Christian added.
Subaru is all about community involvement and sharing the love with its members.
Sharing the Subaru love and growing from within the locale
Subaru is well-known for its Love Promise Community Commitment, grateful for the opportunity "to serve and support the causes and passions that are closest to our hearts" in their very own neighborhood. The Subaru corporation takes this commitment to organizations who are dedicated to enhancing the world and the lives of those living in it.
Cina paralleled this motto relating the mountain bike community with the heart of Subaru's community commitment. "Subaru's reputation is of an active lifestyle; outdoorsy – Soul Ride has the same vision, to get people out in nature and bring people together. The same vision for community. Throw a bike rack on your car and go anywhere."
Casey Hines, product specialist at Findlay Subaru Prescott, is an avid mountain bike racer himself and a member of Mountain Air Racing. He shares a passion for Subarus and the sport. With a "work hard, play hard" attitude, he appreciates the liberating feel he has on his bike. He loves to throw his bike on his 2001 Subaru Forester and head out with his friends to enjoy the ride.
The mountain bike community benefits the local Prescott community too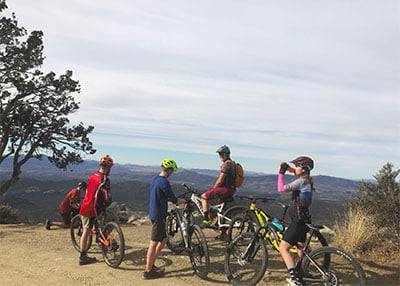 With the 2019 Arizona Race series underway the team is excited for the opportunity to race in their hometown. The fifth race out of six in the series will be hosted by Prescott on the trails of Pioneer Park. Last year the Prescott Punisher brought over 560 mountain bike racers to the city. With friends and family coming to support the racers, local shops, restaurants and hotels experienced increased foot traffic and a boost in revenue. This year's Prescott Punisher is scheduled for Saturday, April 13.
Subaru is proud to partner with a women-owned, local business promoting activity and outdoor adventure within the community.
Soul Riding in the Heart of Prescott

Cina Mcconaughy and Kate Phelan, co-founders of Soul Ride and the Prescott Mountain Air Racing, share in ambition for the local mountain bike (MTB) community, for like-minded riders to gather and explore the beautiful trails of Prescott and throughout Arizona. Their group ranges from age eight to 80 years old, men, women, boys and girls. The duo exudes passion for this sport and want to make it an achievable passion for others as well.
Cina exclaims, we want riders to "get their bikes out of the garage, get on and get out!" As a women-owned company Kate and Cina love to instill confidence and empower women who are timid of the outdoor adventure.
"'Bikes are for everybody!' is our philosophy. Everyone should experience mountain biking. It will change your life."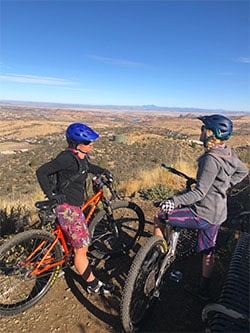 Soul Ride also invests in the youth community offering a Kids Adventure Ride Series and Kids Summer Mountain Bike Camps. Kate is also head coach of the largest middle school composite mountain bike team in the state of Arizona. Both Kate and Cina are certified through the National Interscholastic Cycling Association (NICA).
Soul Ride is a local bike shop located downtown Prescott. Kate and Cina opened the shop in 2015 to meet the needs of their growing MTB group. Out of their full-service repair and bike rental shop they schedule and host MTB tours within the state, retreats, group classes and individual skills trainings, and sell branded apparel.
It only seems fitting for the Prescott Subaru dealership to join up with the active and adventurous mountain biking community that's new in town.
New and used Subaru cars for sale fit the MTB community like a freshly designed racing kit
Subaru's are well-known in the mountain biking culture offering versatility, roomy interior to transport teammates, their bikes, or both, plus a safe and reliable ride to get them to any trail head.
According to a survey researching mountain bikers' preferred vehicles, the figures showed that mountain bikers are "3x as likely as the average American to own a Subaru." The Subaru Outback and the Subaru Forester, with its hatchback convenience, proved to be the most popular models.
Casey says, "Subaru and the mountain bike culture, it's hand in hand – they support getting connected to the earth." The mtb community is for driven people and his Subaru is what drives him there. "No terrain stops my Subaru – it's a go-anywhere vehicle."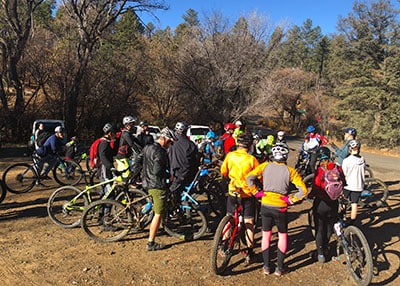 Getting into the mountain biker's brain, there is a lot to consider when searching for a vehicle that can accommodate the demands of the sport, like the following areas:
Cargo Space:
Mountain bikers may opt to transport their bike inside their vehicle for various reasons:
Peace of mind that their precious cargo is safe and secure in the vehicle, especially during any pitstops while traveling to the trail head.
Eliminates the hassle of roof racks and their impact on fuel efficiency
Less worry of getting rear-ended with bikes stored on a tow bar rack
The cargo space depends a lot on the bike's own characteristics, the number of bikes heading to the trail, and the ease-of-use preferences of the biker:
Do the wheels come off and are they easy to take off?
Does the biker even want to have to take the wheels off?
How many bikes will typically be transported – spouse, partner, kids, teammates?
Does the bike have a quick-release seat post or dropper seat post and how will that effect storage capacity?
What other gear will need to be stored?
Towing Capacity:
Towing a trailer of equipment for the team or a make-shift repair shop?
Camping on the trail and need to tow a camper or extra supplies?
Off-Road Capabilities:
Most trailheads are off a forest service road, meaning unpaved and rocky with pits and divots to maneuver.
What is the ground clearance that's best for these conditions?
How will the suspension and handling respond?
What is the durability of the shocks and tires?
Does the vehicle have proper traction and an AWD powertrain?
To help answer some of these questions, Subaru's brand statement comes to mind -
"Confidence in Motion"
Subaru's reasoning behind this bold statement is to reflect the quality assurance it brings to each customer through superior engineering. Subaru is dedicated to continually satisfy their customers' expectations by adapting to the demands of a constantly evolving world. The needs of the customer are always changing, whether in trends or in daily living. Subaru creates a top-notch product that's just as versatile as its owner.
Let's take the Subaru Outback for example...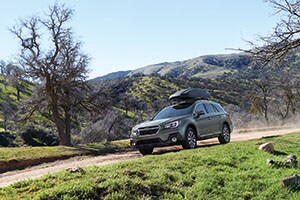 This Subaru hatchback model is a popular choice among the outdoor enthusiasts. Among top ranking reviews for its Subaru accessories, technology and handling, the reviews on its cargo space afford the mountain biker ample space for gear and for ease of convenience for loading:
"... one of this Subie's best traits is its interior roominess. There's good legroom in the second row and excellent cargo capacity overall. With rear seats in place, there's 35.5 cubic feet for your gear. Fold the seats and it opens to a huge 73.3 cubic feet of mostly flat, usable space."
- Kelley Blue Book
"Living up to its station-wagon promise, the Outback's ample cargo area loads at bumper height onto a molded mat designed to trap dirt and water."
- Consumer Guide
The Subaru Outback offers 2,700lbs of towing capacity and was designed to handle the off-road adventure with 8.7" of ground clearance, an 18-degree approach angle, a 23-degree departure angle, and a 20-degree ramp breakover angle. With soft suspension and sound handling mechanics, it is built to endure the rough terrain mountain bikers may experience along the way to the trail head.
The Subaru way of life
Subaru has evolved from being just another vehicle manufacture to a highly-touted lifestyle. The Subaru culture is aimed at those who enjoy movement, action, and adventure. Subaru vehicles are designed to keep its owners moving and accomplishing their goals regardless of inclement weather or unpaved roads – nothing can stop the adventure-seeking Subaru enthusiast.
Subaru understands that those who are driven by their outdoor passions—whether mountain biking or hiking, fishing, kayaking, etc—they get so much joy from being in their element. Arizona Subaru dealers strive to "cherish the human emotions of enjoyment and peace of mind," much like catching the trophy fish, defeating a black diamond, or finishing a mountain bike race series. Subaru wants to take you to all your excursions, making lasting memories.
The outdoor enthusiast's most trusted Subaru dealership
Findlay Subaru Prescott is an Arizona Subaru dealer committed to its customers and their community. Passionate for improving the world their customers live in, this Subaru dealership has its customers, their care and their car's service rooted to the core. Driven to serve and provide top-notch customer care, Findlay Subaru Prescott is equipped with a professional, courteous staff who go above and beyond. The Subaru dealership offers new Subaru cars for sale or lease, as well as used Subarus and other makes and models. We invite any driver to bring their vehicle onto the lot and into our service center to get the best care and maintenance from our certified service technicians. We care for the safety of all drivers and passengers alike and are happy to provide standout service, so you and your vehicle can enjoy a long ride together.