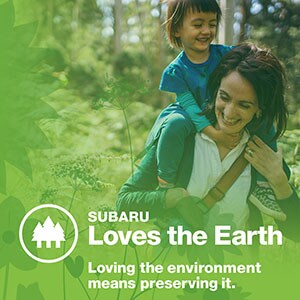 If you've ever visited a Subaru car dealership, you know that a waiting area fully stocked with vending machine sundries and automatic coffee machines are a must for the guests of the dealership. But have you ever thought of the immense waste that is produced from these convenience machines? The staff on trash duty must constantly be on watch for overflowing trash canisters to ensure a sanitized area for the guests.
With convenient, cheap snacks and caffeine sources readily available to guests as they wait for their vehicle to get serviced or while they are meeting with a product specialist learning about all the features of the Subaru cars, a dealership is wise to keep their customers happy with treats and caffeine. Thank you, car dealerships, for making the vending area so appealing with easy access!
Subaru, Not Your Typical Car Dealership
Subaru has taken a different approach by not only providing nourishment for their guests during their stay at the dealership, but they wanted to make their trash more useful, and yet find another opportunity to give back to their local community.
April 22 marks a national awareness of taking care of our planet, known as Earth Day. The first Earth Day in the history of the United States was on April 22, 1970. Inspired by the student anti-war movement, a U.S. Senator from Wisconsin wanted to capitalize on the young 20-somethings' energy to rally them up to promote awareness for the decaying air quality, environment and the risks to endangered species. Earth Day led to the creation of the Environmental Protection Agency. This day is to promote a healthy and sustainable environment by fighting against the biggest proponents of toxic waste production.
It's only fitting that April is Subaru's Love the Earth month in commemoration with Earth Day.

Subaru of America decided to play a role in what they could do to reduce their carbon footprint. Bringing the story to a more local level, Findlay Subaru Prescott wanted to ensure they were also playing their part.
Subaru Prescott Loves the Earth with TerraCycle Zero-Waste™ Box Partnership
In Prescott, our local Subaru dealership knows that employees and their guests need a pick me up every now and again. The opportuneness of a food and coffee vending machine makes those moments when hunger or fatigue strike less dramatic. The downside of vending machines is the production of, what is considered, hard-to-recycle materials from coffee cups, lids, stirrers, creamer containers, sugar packets, candy wrappers or chips bags, and pods from quick dispensing coffee machines.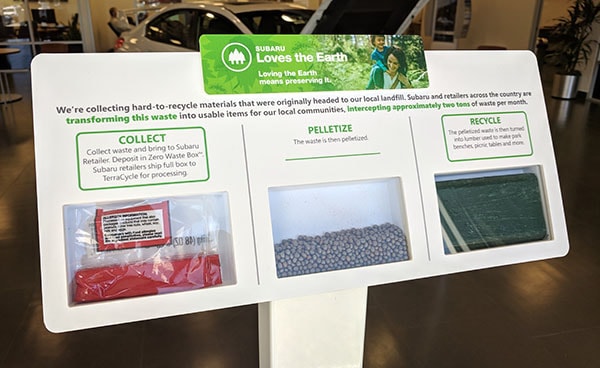 Recycling with TerraCycle provides a receptacle for these specific disposable items to be discarded. The trash is then trucked off to a plant to be reproduced into something more beneficial for the community. Plastics are cleaned and then go through a process to be pressed into tiny pellets to then be formed into other items. Paper and organic matter (the coffee grounds) are composted and the metals are melted. With the materials in their original form they can then be recreated into other useful items such as, picnic tables, park benches, playground equipment and bike racks – to be used and enjoyed by the public arena.
Subaru Community Partners Reap from the Recycled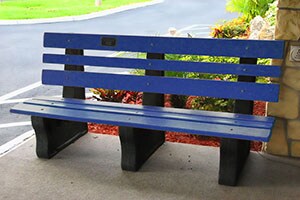 What's really neat is that these items will be donated to Subaru's community partners. Not only does the Prescott community benefit from the donations and contributions from the best Subaru dealership of the Quad Cities, but they also reap the efforts to reduce waste and to make treasure out of trash for the public to profit from.
Subaru is an environmentally-conscious corporation making many strides to lessen its impact on the environment, from its manufacturing plants to each vehicle they produce.
Subaru and the Environment
The Subaru manufacturer knows that their customers are active, outdoor people. Subaru also wants its community to be able take advantage of getting active and healthy in the beautiful outdoors to improve their physical and mental health; breathing in fresh clean air, having beautiful smog-free views, and abundance of wildlife and clean water sources to hydrate from. Stepping outside the box and taking action to be a positive influencer in our environment, the impact has already been astounding with:
Recycling over 500,000 lbs of waste
Nearly 400,000 butterflies saved
Donated close to 800 Certified Wildlife Habitats
With a massively growing population the amount of waste exponentially adds up, with a 10,000% increase of waste over the span of the last 100 years. Subaru is dedicated to preserving the planet we live on and is proactive to take as many steps as possible to limit its contribution to the amount of waste.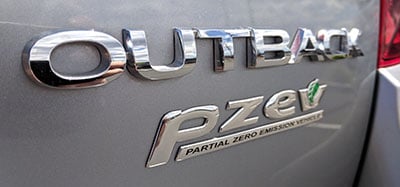 Subaru Models are PZEV
PZEV is a sticker that you may see on a vehicles window or an emblem on the back. Have you ever wondered what that meant? PZEV stands for Partial Zero Emissions Vehicle. With a desire to decrease its impact on the environment and also falling in line with Earth Day's intention of reducing air pollution, Subaru models are PZEV, meaning they have a significant smog-reducing environmental benefits without compromising in performance.
A PZEV vehicle is given the classification of being the "cleanest-running gasoline-powered car on the market". These vehicles had to pass testing that was developed by the quality standards of the state of California, who have the highest emission standards in the country.
To qualify as PZEV, the vehicle must also meet the Super Ultra Low Emissions Vehicle tailpipe standard with zero evaporative emissions.
The Subaru Crosstrek, the Subaru Impreza, the Subaru Legacy, the Subaru Outback and the Subaru Forester are all eco-friendly Subaru PZEV models.
Subaru Models are Manufactured in an Environmentally-Conscious Plant
Subaru vehicles are manufactured in two plants, Gunma, Japan and Lafayette, Indiana. The Subaru manufacturing plant in North America produces the Subaru Ascent, the Subaru Impreza, the Subaru Outback and the Subaru Legacy.
Here is an interesting fact, the average American household sends more trash to landfills than the entire Subaru plant in Lafayette, Indiana. With a goal to reduce its environmental impact, this Subaru plant made it a mission to have zero landfill status. This is achieved through immense recycling and reusing of its materials.
Since 1998 the Subaru of Indiana Automotive (SIA) has been awarded 16 awards for its efforts in recycling and environmental excellence. Two of these awards were from the Environmental Protection Agency, the group formed from the first Earth Day.
Partnering with TerraCycle a Natural Choice for the Subaru Dealership
TerraCycle is completely funded by companies, corporations, brands, and retailers around the world thus providing a free recycling program to those who want to contribute. Subaru Prescott AZ has partnered with what is considered an innovative recycling company who has become a global leader in recycling material that has otherwise been deemed too difficult to recycle. Companies, schools and homes are encouraged to start collecting these hard-to-recycle materials and to ship them in to their recycling plant to be reused. Rewards are even available for schools and non-profit programs.
TerraCycle invites more to join the movement and to be a solution for the ever present and over populating trash problem. This built-from-the-ground up organization uses a reuse, upcycle and recycle method to decrease the amount of waste that builds up in landfills. The recycle logo has a continual arrow going in a circular motion. Much like Subaru's tag line, "Confidence in Motion," TerraCycle keeps valuable resources in motion instead of laying in a heap used for no good.
TerraCycle's program has contributed to the mass efforts of over 202 million people in 21 countries collecting and recycling waste to raise over $44 million for charities around the world.
TerraCycle's mission – eliminating the idea of waste. They want to make everything recyclable or reusable.
Get Active, Get Involved and Learn More!
Come in to the Prescott Subaru Dealership with your coffee cups, lids and other vending machine waste. We are happy to ship in these materials to be used for a greater purpose than what it provided the vending machine consumer.
The Subaru Dealership Prescott AZ invites you to visit us to learn more about this innovative recycling opportunity. We encourage other local corporations, schools, non-profits and businesses to get involved and to start making a greater impact on our environment by reducing the waste we create.
TerraCycle offers many solutions to recycle and eliminate waste from a slew of different materials, including fluorescent lights and batteries and those from large manufacturing industries. Contact TerraCycle to learn more and to get involved.
Here's What You Can Do Today to Reduce Your Waste
Here at your local Subaru Prescott AZ dealership, we are hoping that this article inspired you to start making more environmentally-conscientious choices in your own daily habits.
To help you out, here is a list of simple habits you can start incorporating into your daily routine:
Sign up with a trash disposal company who offers recycling – some are free, and some include the sorting of recyclables as part of the service – make sure you take advantage of this.
Spend a buck or two on reusable bags when you go shopping to reduce plastic bag waste. In California they charge you 10 cents for each plastic bag. Before Arizona follows suit, make it a habit to use reusable bags. Some stores even give you credit for using your own bags!
Spend less on take out and make more meals at home. Home cooked meals are better for your health and there is less waste from takeout containers, such as Styrofoam which is not environmentally friendly.
Purchase reusable containers opposed to plastic baggies. Or better yet, save your pasta sauce, pickle and jelly glass jars to store leftovers or other materials in your home – glass jars are quite trendy too.
There are a ton of food scraps thrown in the garbage every day. Fruit and vegetable peels and coffee grinds break down to make nutrient soil that is ideal for planting gardens.
Take some time to repair broken items, or better yet if you have the receipt return it, or sell it or donate it to someone who doesn't mind a fixer-upper – your trash can be someone else's treasure and is better than sitting useless in a landfill.
A lot of mail, bills, notifications can now be sent electronically. Make sure you choose this option if you are getting an abundance of mail delivered to you that you quickly throw away.
Take some time and do the dishes. Some find it therapeutic to clean up after dinner. Or enlist the kids to take responsibility in dinner's clean up. Try to forego paper goods, this saves you money and the amount of waste you produce.
Drink from reusable sources – water bottles and coffee mugs that just need a quick wash will eliminate a lot of waste from plastics and paper materials.
Subaru Prescott Just Plain Cares
At Findlay Subaru Prescott we care about the environment, we care about our community and we care about you. We are happy to be a helpful resource for you and invite you in to our Subaru dealership to learn more.
Prescott's Subaru Dealership – Loving the Earth and Sharing the Love with the Prescott Community
Findlay Subaru Prescott is an Arizona Subaru dealer committed to its customers and their community. Passionate for improving the world as well as being an active participant in preserving our planet, we are dedicated to caring for our customers and their environment.
This Subaru dealership has its customers, their satisfaction, their safety and their car's service rooted to the core. Driven to serve and provide top-notch customer care, Findlay Subaru Prescott is equipped with a professional, courteous staff who go above and beyond for their customers and their community.
Subaru Prescott offers new Subaru cars for sale or lease, as well as used Subarus and other makes and models.
We invite any driver to bring their vehicle onto the lot and into our service center to get the best care and maintenance from our certified service technicians. We care for the safety of all drivers and passengers alike and are happy to provide standout service, so you and your vehicle can enjoy a long ride together.