It is no secret that Americans love their cars. Over 17 million cars are sold every year in the United States.
Well, there's a reason that so many of those sales are quickly becoming Subarus. The Subaru Crosstrek has been sweeping the market for compact SUVs, and for good reason.
However, no vehicle can be perfect. They all have their downsides. So, let's do a comprehensive Subaru Crosstrek review to find out if it is the right car for you.

What Does the Subaru Crosstrek Offer?
The Subaru Crosstrek has proven to be a popular car. In this article we further explore the features to help you decide for yourself it would be right for you, and with most Subaru cars, the Crosstrek has a lot to offer.
It's pretty well established that most American cars don't quite compare to some of their major foreign competitors. So how does the Crosstrek stack up?
Type of Vehicle
The Crosstrek is a compact SUV with five total seats. It's essentially the best of both worlds considering you can still haul a good amount without guzzling fuel like a larger SUV.
The seats in the back are collapsible for more trunk space to fit larger items, and there's even a roof rack for a heavy-hauling trip.
Features
This car has most of the features that you would expect in a 2019 vehicle, and even more. It is compatible with Apple Carplay and Android Auto, giving you easy access to your favorite tunes while on the road.
It has a touch screen display bar, comfortable seats, and plenty of great bonuses to make your ride as relaxing as possible.
Much of that is expected these days, though. So, let's get to the big stuff. The Crosstrek is praised for its excellent steering capabilities, its fuel-efficiency, and its safety features. So how true is that, and what else does it offer?
Highlights of The Crosstrek
We want informed customers, so we should talk about what Crosstrek owners are saying about the vehicle, both positive and otherwise.
Let's talk about some of the best features of this vehicle, and some departments where it might be lacking.
Engine
The Subaru Crosstrek engine is a 20L 4-cylinder engine with 152 horsepower that is designed for fuel efficiency.
While compact SUVs are not widely associated with towing, this engine and vehicle are capable of towing up to 1,500 pounds.
If you're not too familiar with car engines, learn more about what kind of engine you need for your vehicle before making your decision.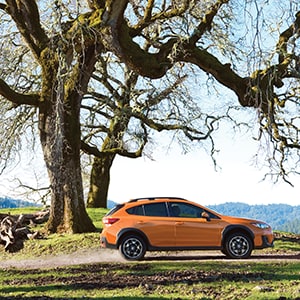 Fuel Efficiency
This vehicle is available as a hybrid, offering up to 17 miles of battery-only use. In hybrid form, you can expect to get up to 35 mpg, which is excellent for a compact SUV.
In its standard form, expect up to 27 mpg in the city and up to 33 highway, not too shabby considering its size.
The fuel tank is rated for 16.6 gallons, so this will make any long road trip a lot easier with fewer stops. A full tank on the highway could easily give you over 500 miles, beating almost any sedan or SUV on the market.
Safety Features
The Crosstrek offers state-of-the-art safety features that could help you at any time on the road. There are the basics like anti-lock brakes and traction control, plus some additions.
So, other than the essentials, here are some of the best safety advantages offered by the newest model.
Airbags
All modern cars have airbags. So, what is this important?
The Crosstrek exceeds what "the modern car" comes with. Not only do they have front-impact airbags, but they have side, overhead and knee airbags as well to keep you safe in the event of an accident. You'll be protected from every angle with a total of seven airbags in the vehicle.
Sensors
This car comes equipped with several sensor enhancements to help you on the road.
This includes blind spot detectors to let you know if it is safe to merge or change lanes, rear cross-traffic alerts can also be equipped in this vehicle, along with driver-assist technology.
Stability Control
Stability control senses when the vehicle's handling limits have been exceeded and reduces engine power and/or applies select brakes to help prevent the driver from losing control of the vehicle.
When driving in snow or on desert sand, this feature can save your life. The car may have ample airbags, but Subaru would prefer to have its passengers avoid having to use them.
Security System
While it has an alarm system, that is certainly not all. The vehicle is equipped with new ways of detecting unwanted vehicle intrusion.
The vehicle comes with an ignition disable device that will prevent the engine from starting if the original manufacturer key is not used.
Exterior Rear Camera
Being able to gauge the distance you have behind your vehicle when parallel parking or driving in reverse has been an issue since humans started driving.
The exterior rear camera reduces your risk of misjudging space or accidentally backing into something by giving you a full view of what's behind you.
All-Wheel Drive
This can be a lifesaver if you live in a region with harsh winters or are an avid off-roader.
Power
While the horsepower doesn't seem too impressive, this car pulls it off well. The model has been criticized for not being fast enough, especially with the hybrid model. However, this is not a downside for many drivers.
The engine is a 4-cylinder, made for fuel efficiency, so it is certainly not a race car, but it is a great ride and a money-saver.
Drives Well on the Road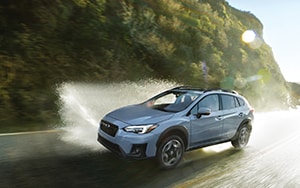 This car is made for people who do a lot of driving, and it is a great, practical choice for families, young adults or even ride-share drivers.
WiFi-Adapter Compatible
Yes, in the digital age, it can be tough to live without WiFi, even on the road.
We hate to be the bearer of bad news, but unfortunately, this vehicle does not directly include on-board internet capabilities.
However, if this is a deal-breaker for you, there are affordable and easy ways to add WiFi to any vehicle, so don't be discouraged.
Subaru Crosstrek Review
A lot of the great features of the vehicle were discussed here, as well as some shortfalls. Overall, this is a great vehicle with a lot of perks to offer, but is the performance worth the price?
Performance
As reviewed previously were the fuel-efficiency and power optics, so what else is the key for performance?
One of the most important questions to ask is whether this car will last. With this being a brand new 2019 model this vehicle has had the test of time yet.
The good news is that Subarus have long been associated with longevity and durability. Subaru likes to boast that 98% of its cars manufactured 10 years ago are still on the road. The Crosstrek is no exception.
With good care and proper maintenance, this vehicle should easily surpass 200,000 miles.
Price
The most important question. With all these great features, one can expect new model cars to be a pretty penny, so what should you expect from this vehicle?
Well, Findlay Subaru Prescott is currently selling these vehicles on sale for $26,748. That's about $423 a month with a 60-month loan and a $5,000 down payment.
If you are in the Arizona area and you are looking for a vehicle that can handle the tough terrain and unpredictable weather, this may be what you are in the market for.
Overall Review
Overall, Subaru Crosstreks are excellent cars that can fit the basic needs of a sedan with the room of a station wagon.
The fuel efficiency, durability, and the new features of these vehicles are hard to beat. If you can see yourself driving in one of these, get to the Subaru Prescott dealership today.
If you're thinking that it's out of your price range, let's talk about the financial benefits of buying a new vehicle.
Why You Should Buy A New Vehicle
While it has long been told that buying used vehicles is the best financial decision, that is not always the case.
Under certain circumstances, buying a new vehicle is the best option for your wallet.
When?
When should you buy a new car? This mainly depends on your circumstances, but there are some helpful guidelines to follow.
If you are looking to get rid of your old car, find out the value of it with Kelley Blue Book so you can save on your now one.
Typically, buying a new car is the best option when you can afford it. If you are in need of a new vehicle, buying one that hasn't been owned can be a great option for many reasons.
Why?
Buying a new vehicle means higher upfront costs, and likely a higher monthly payment. However, what you spend on payments, you save on repairs. And in this case, on gas.
With a new car, you don't have to worry about the engine, the tires or brakes for tens of thousands of miles. That can be a huge weight off your shoulders, knowing exactly when your car's expenses are coming up.
Not only the basics, but a brand-new transmission will keep your car in good shape for a long time.
And if you are looking to lower that daunting payment and get in a new car today, trade in your old vehicle with us and save today. We don't only do trade-ins, we even buy cars for cash.
On top of the lack of repairs needed with new cars, most of them come with a warranty, and extended warranties can be purchased. Giving you even more peace of mind for your purchase.
This all comes down to one question.
Is the Crosstrek Right for You?
This is a question that depends on your needs. If you wanted a sedan but need more room and hauling ability, then this may be the car for you.
55.3 cubic feet of storage with seat space, a decent towing ability, and all-wheel drive offer a lot more than a sedan, with comparable fuel-efficiency.
The safety features are also tough to match, along with most other Subaru vehicles. However, the Crosstrek is not for everybody.
If you need a lot of space and hauling ability, this vehicle may be too small for you. If you are looking for a lot of power for speed or towing, we offer plenty of other new cars, so you'll be sure to find something that fits your needs.
Our sales team is not commission-based, so they are dedicated to helping you find the right car for you. So, all the more reason for checking out your options.
If the Crosstrek is for you, or if you see another car you like, stop in and get financed as soon as possible.
What Else?
The Subaru Crosstrek is one of the most popular compact SUVs on the market and received a rather promising review. It fits all the needs of someone who wants a sedan with enough room to seat five passengers and who's looking for a lot more cargo space.
The vehicle also comes with a lot of great features that can keep you happy and safe on the road. The durability will help you enjoy it for a long time with low maintenance costs!
If you're sold on the Crosstrek, or if you want to find out some of the many other options we have available, check out our hours and shop Prescott today!