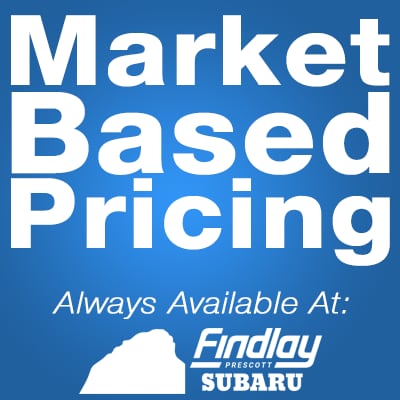 For both our new Subaru cars & SUVs for sale, and our wide, ever-changing inventory of used cars available to purchase - our team utilizes some pretty amazing software. This software allows us to do the price shopping for you!
By reaching out 100 miles, to across the entire nation, to gather enough data to price our used cars for sale at our friendly Prescott, Arizona dealership, we can offer our used inventory for sale at the best price. We take all factors into account, including miles, age, trim level, options, so on & so forth. While there may be times our prices seem higher than the market, once you look at the mileage, we are going to be a much better value!

For our new Subarus, we work within the rules laid out by Subaru, for how far we are allowed to sell new Subarus to gather pricing data. When looking at the table below, the only vehicles priced lower than our White 2018 Subaru Outback 2.5i Premium (the red line), are Crimson Red Pearl Outbacks that are not as desirable. There is even a dealer charging MORE than MSRP for their Outbacks.

If you would like to avoid hassle, stress, and haggling - Findlay Subaru Prescott is here to help you with your next car purchase. Our team of non-commission specialists will help guide you through the process. Once you've driven your new (or just new to you) car home, we will remain behind you, to help answer any questions you may have about your car.